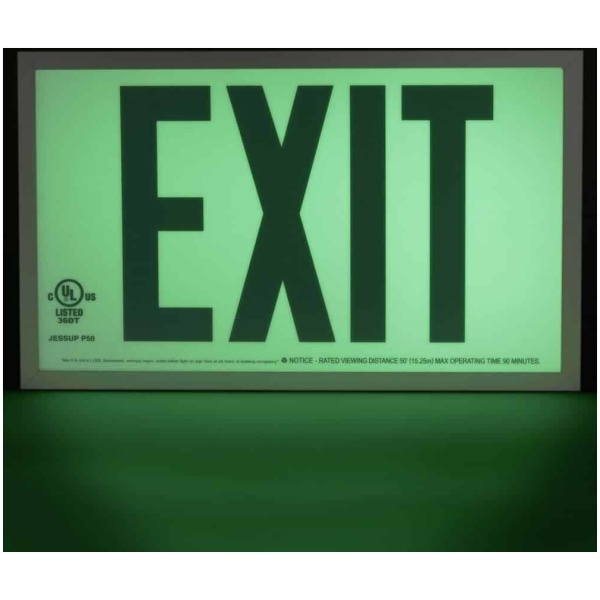 Glo Brite® Eco Exit™ Signs
Glo Brite® Eco Exit™ signs utilize the latest photoluminescent technology to absorb and store ambient light. In the event of an emergency with a blackout or smoky conditions this stored energy is immediately visible, creating a clearly recognizable, photo luminescent egress indicator. The innovative emergency egress signs reduce the risk of panic or injury during evacuation, offering peace of mind while eliminating energy costs.
Features
Requires no additional electricity to operate
Reliability
Non-toxic, non-radioactive
Steel and plastic sign options for any plant or office environment
Low-cost, easy installation
Designed for surface, flag or ceiling mounting
Can be used for both high-level and low-level applications
Requires virtually no maintenance, periodic inspections, for 25+ years
Thin, low profile construction
Consistent, uniform illumination
Visible at 50 or even 100 feet in total blackout
Saves on energy costs
Listed to UL 924 through UL, ICC ES #6040 meeting all current building codes, meets NFPA
Life Safety Code 101 and OSHA requirements
CCMC Evaluation Report CCMC 13211R
Life Expectancy: 25+ years
Power Requirements: NO additional electrical or mechanical source required
Installation: Surface, flag or ceiling mounted (hardware included). Before installation it must be determined that there is a minimum of 54 lux of fluorescent, metal halide or mercury vapor light on the face(s) of the sign at all times during building occupancy.
ECO Exit™ Zero Energy Photoluminescent Exit Signs
LEED points qualified exit signs meet OSHA requirements
Standard Sizes (Approximate)
| Size | Qty. 1 | Qty. 2-5 | Qty. 6-10 | Qty. 11+ |
| --- | --- | --- | --- | --- |
| Each | $166.95 | $161.94 | $158.60 | $150.26 |
Only logged in customers who have purchased this product may leave a review.