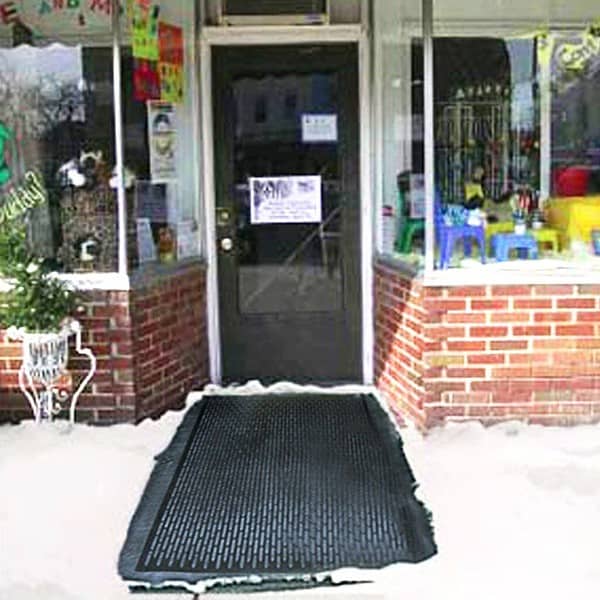 Heated Doormats Eliminate Shoveling or Chemicals
The new Greener Heat™ Heated Door Mat melts snow and ice at your door, on porches, decks, and around hot tubs. Measuring 36W x 33L inches, the heated doormat produces a 40 to 50 degree Fahrenheit rise in surface temperature over the ambient temperature, melting snow and ice 24/7.
Features & Benefits
Economical, using only 35 watts per square foot.
The molded rubber mat features heavy-duty construction that is made to last for years. Weighing over 14 lbs, most winds will not move it.
Measuring 36 inches wide x 33 inches long, the Greener Heat doormat will help prevent thick ice build up when properly used. Designed to stay on all winter, the mat may also be used without power in warmer periods, making a very nice entrance mat all year round.
G.F.C.I. attached to the 15 foot cord. The mat is E.T.L. approved.
These heated entrance mats are an ideal size for residential use – use outdoors to melt snow and ice, or indoors as a heat source in non heated areas.
Outdoor Uses
Door Front
Porch
Around Hot Tub
Decks
Indoor Uses
Garage (will dry off wet shoes over night)
Shed
Barn
Basement Work Area
The Greener Heat Heated Doormat provides safer footing during snowy winter months by melting snow and slush for pennies a day. Additionally, they provide radiant heat indoors, helping reduce heating costs while providing warmth and helping to dry the floor during winter months.
Photo shows the Heated Door Mat in 10°F. weather, and 6" of fresh snowfall
Electrical & Approvals:
115VAC, 240W
ETL Listed
Conforms to UL Std 499
Certified to CAN/CSA Std C22.2 No. 46
Ice-Away™ Heated Mat
Melt Snow & Provide Safer Footing
Standard Sizes (Approximate)
| Size | Qty. 1 | Qty. 2-5 | Qty. 6-10 | Qty. 11+ |
| --- | --- | --- | --- | --- |
| 33" X 35" | $179.40 | $174.02 | $170.43 | $161.46 |
Only logged in customers who have purchased this product may leave a review.