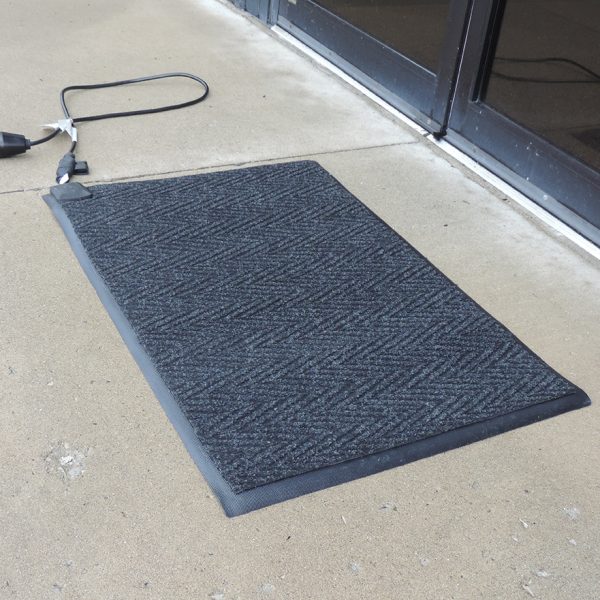 Outdoor Carpet Mat Ice and Snow Melting System Provides Year-Round Service
A year-round carpet entrance mat system first designed for the Cleveland Clinic is now being offered to all. The heated mat system:
Controls ice and snow build-up in front of public doorways;
Controls the tracking into the building of calcium or salt used to melt snow and ice;
Controls dirt tracking into the building during other seasons.
The unique system combines Waterhog Premier Roll carpet with Floormat.com heated floor mat technology. The system can be left in place year-round, capturing dirt in warm months, and melting snow and ice during the winter.
The system was tested at Cleveland Clinic for two years, and continues to work well. Floormat.com first put down a low profile rubber heated mat. For larger areas, multiple heated mats were placed side by side, covering areas up to 13 feet x 8 feet. Then Floormat.com covered these mats with Waterhog Premier Roll Goods. This product was designed with extremely deep grooves for the purpose of catching salt, calcium and dirt before it is tracked into the building. The Waterhog Roll was installed without heat inside the doors. Cleveland Clinic reports that over 85% of salt was stopped by this system. Additionally, the system dries itself, and provides substantial maintenance savings on interior carpet or waxed hard floors.
The Waterhog Premier Roll Goods is great for large entrances and custom cut applications up to 12' X 50'. The bi-level face pattern allows dirt and moisture to be wicked to the bottom of the mat, away from foot traffic. This matting can be free laid or glued down with a solvent-free adhesive and may be purchased pre-seamed and bordered as needed or the matting product and nosing may be purchased separately and installed on site.
One laying the carpet, Floormat.com mechanically anchors the mat in all four corners keeping mat in place during the worst storms as well as stopping unnecessary theft.
The Cleveland Clinic just turned mat off for non winter use, pressure washed the top carpet mat and thus continued to enjoy summer maintenance savings by capturing dirt before it enters the building.
Now being offered to all, Floormat.com has created a truly innovative matting system that adapts to all types of weather year round. Economical and long lasting, this truly is a matting system that shows a payback to your bottom line by reducing maintenance and damage to floors while providing safer footing.
"The custom dual-mat solution of heated mats on the outside and water-grabbing matting on the inside creates a system that gives patients, visitors and staff at the Clinic a safe surface to walk on or maneuver a wheelchair," said John Boike, Director of Environmental Services at Cleveland Clinic.
Carpeted Snow Melting Entry Mat
Melt snow at doors; provide drying and protect indoors
Standard Sizes (Approximate)
| Size | Qty. 1 | Qty. 2-5 | Qty. 6-10 | Qty. 11+ |
| --- | --- | --- | --- | --- |
| 33" X 35" | $179.50 | $174.12 | $170.53 | $161.55 |
Only logged in customers who have purchased this product may leave a review.