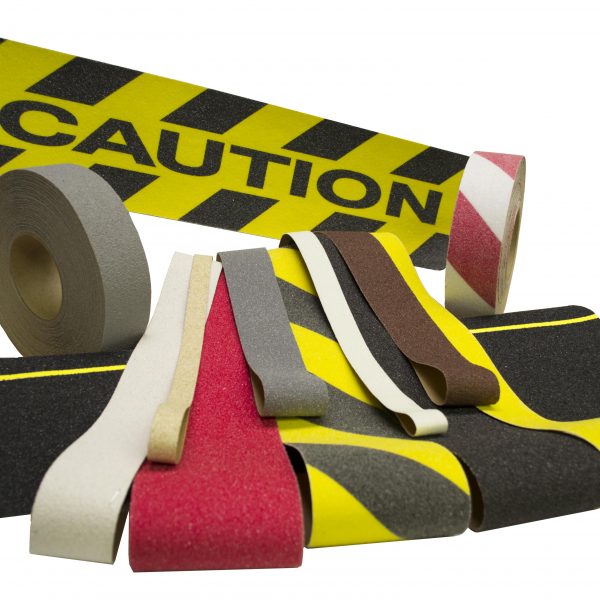 Floormat Anti-Slip Tape Products
Slip-resistant Tapes
Designed to increase safety by improving foot traction, these anti-slip tapes also draw visual attention to areas that might require additional caution.
We offer:
Colors and materials designed to grab attention
A wide variety of sizes that are easy to apply
Our products meet OSHA and ADA federal regulations, as well as Military Spec 17951C,
Our long-wearing items are offered in a variety of colors and sizes.
O.E.M. pricing is available, as are quantity discounts. Rolls up to 12" wide, and we will ship partial rolls. For pricing and further information, please contact Floormat.com, or order Master Stop anti-slip tape in 60 foot rolls and a variety of widths and colors online here.
Floormat Anti-Slip Tape
Product Details
Heavy Traffic Areas, Work Areas, Loading Docks, Stairways & Ladders, Ramps & Walkways,
Able to bend over 90° angles without fracture
Rolls 3/4" to 24" wide x 60' long (black rolls available up to 48" wide). For wider areas use 2 or more smaller rolls.
Die-cut pieces 6" x 24", 5.5" sq., and 3/4" x 24". Several other standard sizes are available upon request.
Colors and materials designed to grab attention
A wide variety of sizes that are easy to apply
Standard Sizes (Approximate)
| Size | Qty. 1 | Qty. 2-5 | Qty. 6-10 | Qty. 11+ |
| --- | --- | --- | --- | --- |
| 24" X 60' | $571.76 | $554.61 | $543.18 | $514.59 |
| 18" X 60' | $428.82 | $415.96 | $407.38 | $385.94 |
| 12" X 60' | $285.86 | $277.28 | $271.56 | $257.27 |
| 6" X 60' | $142.94 | $138.65 | $135.79 | $128.65 |
| 4" X 60' | $95.29 | $92.44 | $90.53 | $85.76 |
| 3" X 60' | $71.47 | $69.33 | $67.90 | $64.32 |
| 2" X 60' | $47.65 | $46.22 | $45.26 | $42.88 |
| 1" X 60' | $23.82 | $23.11 | $22.63 | $21.44 |
| 0.75" X 60' | $17.86 | $17.33 | $16.97 | $16.07 |