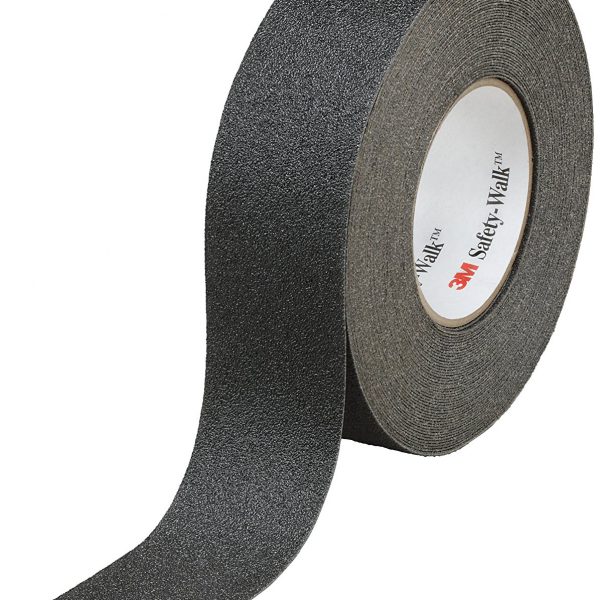 Prevent slips and falls in a variety of applications with our general purpose Safety-Walk™ 600 and Master Stop™ tapes. The mineral abrasive grit surfaces provide traction in wet or dry environments indoors or outdoors.
Their pressure-sensitive adhesive allows them to be applied like tape to a clean, dry surfaces. Available in assorted shapes and colors. Lasts for years with minimum maintenance.
Floormat.com offers these anti-slip materials in die-cut shapes. No job is too small!
3M Safety-Walk General Purpose Tape
General purpose slip-resistant tapes prevernt Slip & Fall Accidents
Product Details
For light to heavy shoe-traffic areas
Mineral-coated, high traction, slip-resistant surface
Pressure-sensitive adhesive, covered by removable protective liner, is easy to apply
Applications: Flat surfaces, stairs, ramps, entrances, lawn equipment, ladders, snowmobiles, scooters, construction machinery and vehicles
Standard Sizes (Approximate)
| Size | Qty. 1 | Qty. 2-5 | Qty. 6-10 | Qty. 11+ |
| --- | --- | --- | --- | --- |
| 36" X 60' | $896.40 | $869.51 | $851.58 | $806.76 |
| 24" X 60' | $597.68 | $579.75 | $567.80 | $537.91 |
| 18" X 60' | $499.82 | $484.83 | $474.83 | $449.84 |
| 12" X 60' | $298.76 | $289.80 | $283.82 | $268.88 |
| 6" X 60' | $155.38 | $150.72 | $147.61 | $139.84 |
| 4" X 60' | $51.84 | $50.28 | $49.25 | $46.66 |
| 2" X 60' | $51.82 | $50.27 | $49.23 | $46.64 |
| 1" X 60' | $25.92 | $25.14 | $24.62 | $23.33 |
| 0.75" X 60' | $25.00 | $24.25 | $23.75 | $22.50 |