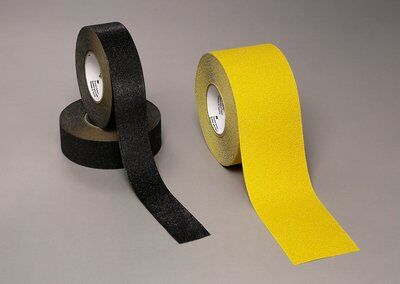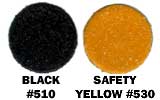 The complete line of 3M™ Safety-Walk™ Slip-Resistant materials help solve costly slip and fall problems before they begin, improve product performance, and safety.
These nonslip materials even work around oil, grease, and water. Indoors and outdoors.
Ease of application makes for instant protection. Goes on like tape to a clean, dry surface. Available in assorted shapes and colors. Lasts for years with minimum maintenance.
For irregular or contoured surfaces in light to heavy traffic areas
Mineral-coated, high friction, slip-resistent surface
Foil backing conforms to corners, curves and irregular surfaces
Aggressive adhesive holds securely
Applications: Stairs, ladders, loading ramps, platforms, irregular surfaces like diamond plating or flat surfaces with rivets or screw heads.
Safety yellow color for high visibility and easy identification of hazard areas.
Safety-Walk™ Conformable Tapes & Treads – 500 Series
Standard Sizes (Approximate)
| Size | Qty. 1 | Qty. 2-5 | Qty. 6-10 | Qty. 11+ |
| --- | --- | --- | --- | --- |
| 12" X 60' | $313.84 | $304.42 | $298.15 | $282.46 |
| 6" X 60' | $163.26 | $158.36 | $155.10 | $146.93 |
| 1" X 60' | $27.20 | $26.38 | $25.84 | $24.48 |
| 4" X 60' | $108.82 | $105.56 | $103.38 | $97.94 |
| 2" X 60' | $54.44 | $52.81 | $51.72 | $49.00 |