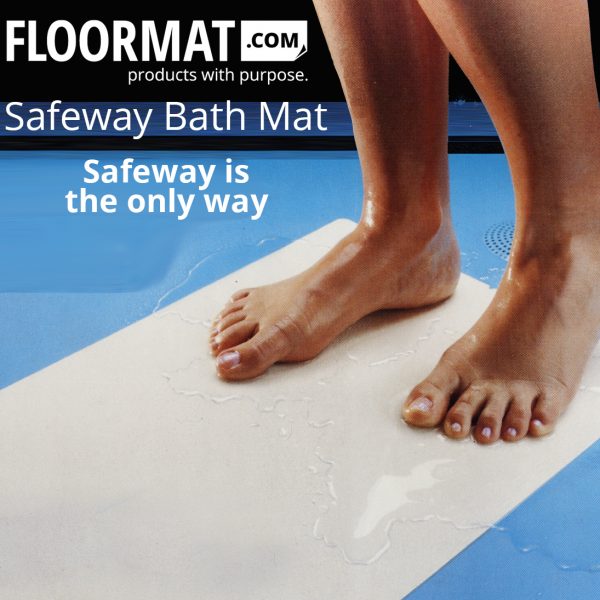 Safeway Bath Mat – the Ultimate Bath Mats made from pressure sensitive Safety-Walk™
Safeway Bath Mats are the ultimate bath mat's. It beautifies the tub while making it safer. Used in hospitals and guaranteed to last years, Safeway Bath Mat cleans the same as you would your tub. Safeway Bath Mats are manufactured from a unique type of vinyl, and are both comfortable to the skin and pleasing to the eye.
Durable – Outlasts traditional mats, with life expectancy of years, not months.
Easy to Clean – Clean just as you do the tub. No additional maintenance required.
Custom Sizing – Multiple sizing to custom fit your tub.
Completely Sanitary – All vinyl construction limits growth of odor causing germs and bacteria.
Colorfast – Will not fade or wash out.
Mistake-Proof Application – Simply peel off liner and press firmly onto a clean, dry tub surface. Allow four hours to dry. Note: When you are ready to replace your Safeway Bath Mat, simply lift the corners and remove. Safety Bath releases cleanly with no remaining residue to clean.
Safeway Bath Mat
The ultimate bath mat for tubs, tub sills, shower stalls, jet tubs and more!
Product Details
High performance, water-resistant, acrylate adhesive is ideal for wet conditions
Available in White or Clear
Each tread has a reliable, long-lasting adhesive that helps keep it in place.
Standard Sizes (Approximate)
| Size | Qty. 1 | Qty. 2-5 | Qty. 6-10 | Qty. 11+ |
| --- | --- | --- | --- | --- |
| 12" X 36" | $20.44 | $19.83 | $19.42 | $18.40 |
| 12" X 24" | $13.62 | $13.21 | $12.94 | $12.26 |
Only logged in customers who have purchased this product may leave a review.