Grit Coated Fiberglass Step Covers
$

53.76
$53.76
Price: $53.76
Grit-Coated Step Covers & Walkway Panels provide slip resistance, durability and a permanent anti-slip solution. Fiber glass step covers are lightweight and ideal for use on structurally sound surfaces.
Our Fiber Glass products are coated with a proprietary blend of mineral abrasive epoxy grit. Surfaces such as gratings, mezzanines, steps, inclines, and Ramps
All are available in three distinct grit coating options: Heavy Duty, Medium and Fine as well as Yellow or Black.
Specialty sizes and panels are available upon request. Call for details.
Add Slip-resistance to Steps, Ramps & Walkways
Featuring a proprietary coating of mineral abrasive epoxy grit, our fiberglass step covers and walkways provide a lightweight and durable anti-slip surface. With three coating options, heavy, medium or fine, our covers may be applied to any structurally sound surface including steps, inclines, floors, and ramps. These fiberglass covers are a cost-effective way to provide slip-resistant footing to existing surfaces, and combine low maintenance with long service life.
The mineral abrasive epoxy grit is bonded to 0.125″ thick thermoset polyester, fiber-reinforced polymer panels. These fiberglass step covers and panels are fire-retardant and easy to maintain. The epoxy grit surface may be swept to loosen and remove dirt, and cleaned with a general purpose industrial floor cleaner and bristle brush. The step covers and walkway panels may also be pressure washed with up to 1000 psi.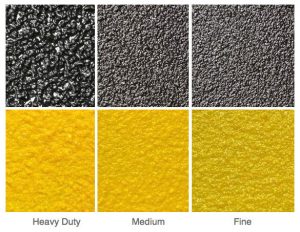 Step Covers
11.75″ depth with 2″ nosing
9″ depth with 1″ nosing
3″ depth with 1″ nosing
Lengths up to 12 feet
Single color treads in yellow or black only
Two-color treads, yellow nose with black back
Flat Panel & Walkways
Black or yellow
Standard walkway sizes of 30″ x 96″ and 48″ x 96″
Additional sizes available
Typical Applications
Hotels and motels
Restaurants
Stairways
Stadiums
Food processing plants
Chemical plants
Water and wastewater treatment facilities
Water parks
Standard Sizes (Approximate)
| Size | Qty. 1-5 | Qty. 6+ |
| --- | --- | --- |
| 9" w/ 1" nose X 24" | $53.76 | $48.38 |
Call for bulk or subscription pricing 1-800-876-1312