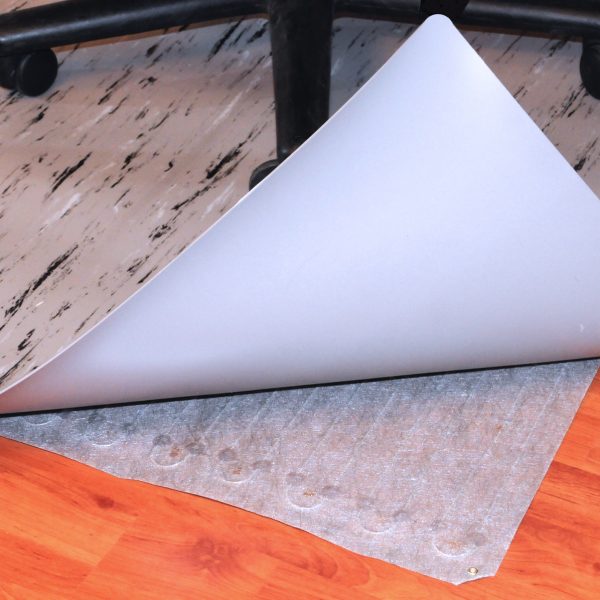 Martinson-Nicholls new Heated Chair Mat Kits work under rolling office chairs or in work stations to provide safe, warm, radiant heat
Replace your current chair mat with our new Heated Chair Mat kit. Designed to work with rolling office chairs, the Heated Chair Mat Kit works on hard floors, or on carpet by adding an optional KlimaGrip thermal, non-slip pad.
The RugBuddy is simply placed on your own non-slip/non-creep pad (available at local hardware or flooring stores), and under our Spiffy Vinyl mat. The kit provides radiant heat from the floor all around your chair or work area for maximum comfort and productivity. RugBuddy is much safer than dangerous space heaters, and the GFCI protected cord provides additional protection. It is durable and can withstand furniture legs and rolling office chairs.
Tests show our chair mat system will reach about 76-77°F. in 15-30 minutes when placed on a 60°F. floor.
Heated Chair Mat Kit
RugBuddy mats listed below are 120VAC only.
Recommended with your heated rolling chair mat system...
KlimaGrip non-slip, reversible, thermal insulation padding prevents wrinkling, buckling, crawling, and moving of an area rug and RugBuddy on any type of flooring. It also provides a thermal insulation between a hard floor and the heating panel, improving RugBuddy's performance and efficiency.
It's made of two non-woven polyester fabrics that are permanently needle-punched together and coated on both sides with a specially formulated water-based sensitive dry adhesive.
KlimaGrip Non-slip, Insulated Pad
Heated Chair Mat System
RugBuddy and Spiffy Vinyl matting provide warm, radiant heat from under your chair or workstation
Standard Sizes (Approximate)
| Size | Qty. 1 | Qty. 2-5 | Qty. 6-9 | Qty. 10+ |
| --- | --- | --- | --- | --- |
| 34" X 58" | $303.80 | $294.69 | $288.61 | $270.38 |