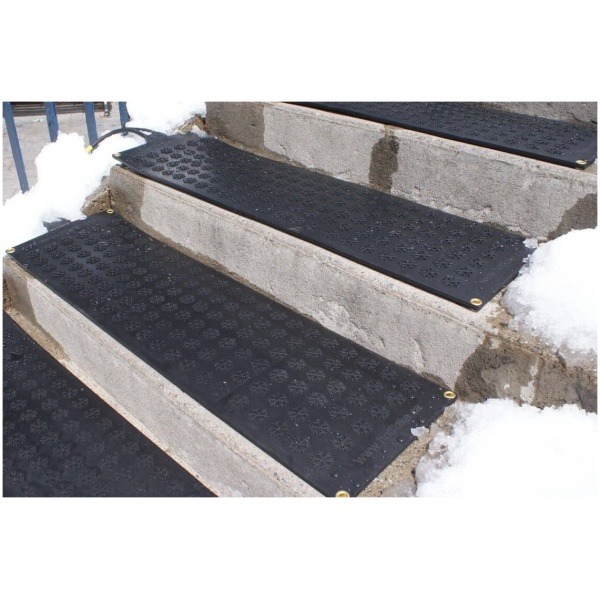 Commercial Duty Heated Mats & Heated Stair Treads Clear Snow & Ice
Designed for commercial buildings, industry, hospitals, office buildings and hotels, our heavy duty heated mats and stair treads melt snow and ice for safer, drier footing. They feature:
Suitable for Outdoor or Indoor Use
Work as a snow-melting door mat or snow and ice-free stair treads
Works indoors to provide radiant floor heat and promote drying
Compact size ideal for residential use
Low Profile - Ease of use for wheel chairs or walkers.
Non-slip surface provide optimum traction year round, indoors or outside in snow or rain
The Heated Entrance and Work Mat provides safer footing during snowy winter months by melting snow and slush for pennies a day.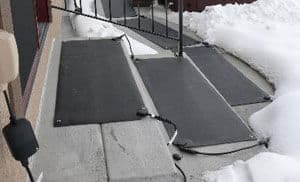 Additionally, they provide radiant heat in entrances and vestibules, helping reduce heating costs while providing warmth and helping to dry the floor. They also work very well as work mats for working in the garage during winter months and other areas where people must stand on cold floors.
We have purchased and use several Outdoor Heated Mats at Aspenwood, a residential condo setting located on the shore of Lake Superior in northern Minnesota. We use them on sidewalks to eliminate snow and ice. They work very well. The outdoor heated mats solved a problem as they are laid in an area that is inaccessible to snow blowers and required laborious shoveling. Great invention.
Steve Surbaugh
Cascade Property Sales & Vacation Rentals
Heated Entrance Mats & Heated Stair Treads
Melt snow & ice outside your facility for safer footing
Product Details
Connect up to ten: 120V treads, fifteen: 230V treads and fifteen: 240V treads together using one GFCI (GFCI Power Cord not included.).
100% virgin SBR rubber
Mats are completely waterproof and offer great anti-slip traction, even in the worst conditions!
Standard Sizes (Approximate)
| Size | Qty. 1 | Qty. 2-5 | Qty. 6-10 | Qty. 11+ |
| --- | --- | --- | --- | --- |
| 11" X 38" | $136.50 | $132.41 | $129.68 | $122.85 |
Only logged in customers who have purchased this product may leave a review.