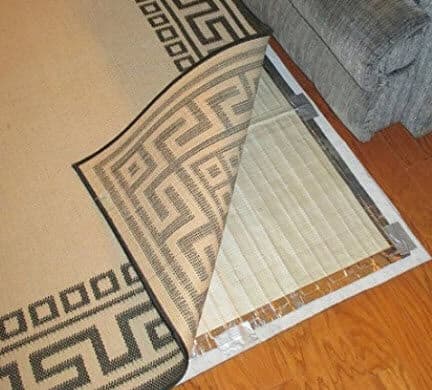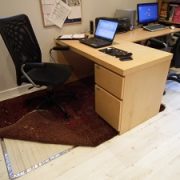 RugBuddy Electric Heating for Area Rugs
and Carpets
RugBuddy Turns Carpets & Rugs into Heated Floors
Like an electric blanket for your floor, RugBuddy is the only portable heating system in the world approved for use under area rugs. Rug Buddy is an innovative heating system that turns rugs into "invisible" space heaters and lets you stay warm and keep your sense of style.
RugBuddy can be used to supplement heat in chilly rooms, or specific areas in a room off a single electrical circuit or thermostat. Even different areas within one room, such as a desk and sitting area, can be heated from a single plug or thermostat.
RugBuddy is the attractive solution for warming cold spots in any room of the home or office. You simply place the heating mat under your area rug and plug it in. RugBuddy is guaranteed safe no matter what type of floor covering is under your area rug (stone, tile, wood, laminate, vinyl, and/or carpet).
Instantly eliminate those cold spots in your home with this versatile, high-tech, portable electric radiant heating blanket instead of space heaters.
Perfect on top of existing hard surface flooring that feels cold or over already installed carpets in your bedroom or living room to add that extraordinary on-demand heating comfort right at your feet.
Benefits
Energy Efficient

Lower your thermostat
Only heat the rooms you're in
Just pennies a day to operate

Safe

No risk of fire
No risk of shock
GFCI protected
Waterproof

Healthy

No EMR
No dust circulation
No carbon monoxide

Durable

Rolling office chairs are OK
Furniture legs OK
Washable - even steam clean your carpets

Simple

Lay down non-slip pad
Lay down RugBuddy
Tape down corners
Lay down area rug
Plug in and enjoy
Our heating system can be used as a primary heating, supplementary, or floor warming.
PlugBuddy SmartStat
Controls your energy efficient radiant floor heating system
PlugBuddy is a portable, plug-in, digital, programmable smart thermostat for use with the RugBuddy under area rug heater. The PlugBuddy thermostat plugs into a standard grounded 120-volt, 15-amp household outlets and is armchair programmable with four (4) settings per day plus weekend settings.
Armchair Programmable
Temporary Temperature Override
Manual Hold
Setting Range 45 F to 90 F
User Temperature Calibration
Adjustable Temperature Differential/ Cycle Rate
Energy Star Compliant
Unit is directly powered by 120V outlet
Two (2) 1.5V G13 alkaline button cell batteries included are for maintaining the clock only
KlimaGrip
Non-slip, reversible, thermal insulation padding for under the RugBuddy
The KlimaGrip prevents wrinkling, buckling, crawling, and moving of an area rug and RugBuddy on any type of flooring. It also provides a thermal insulation between a hard floor and the heating panel, improving RugBuddy's performance and efficiency.
Made of two non-woven polyester fabrics that are permanently needle-punched together and coated on both sides with a specially formulated water-based sensitive dry adhesive.
Susan of New Hampshire sent us this about RugBuddy:
"I was a bit skeptical at first, but I'm very happy with the two mats I bought. One is next to the shower and the other under my feet right now! My cats LOVE them. I have been telling everyone I know about them, too. I weave rag rugs from old cotton clothing. They are relatively thin (1/4") and the mats work well under them. I believe they might be good for Diabetics and for people who have had some kind of chemotherapy and either have no feeling in their feet or who are sensitive to cold. I live in NH and it is cold in my house. I'm pretty hardy but used to get into bed at night with cold feet. NOT anymore!"
Rhonda Haulish of Elkhart, Indiana has this to say about RugBuddy:
"This is just a note to tell you how pleased we are with your product. We purchased 2 pads (RugBuddy) to go under carpeting in our family room, which is located over an un-heated crawl space. We live in northern Indiana and last December was unusually cold. We put your product to the test. It surpassed our expectations. We have always had to have extra blankets on our chairs for those chilly nights. I have put them away. It's amazing what a little warmth on the floor can do to keep the entire room comfortable."
RugBuddy Carpet or Rug Heating
A unique, energy-efficient electric space heater for under area rugs. Keep warm in proven solution. RugBuddy is great for the elderly and even in dog and cat beds.
Product Details
Only heat rooms in use
Lower your thermostat
No risk of fire
No risk of shock
No dust circulation
No EMR
Plug in and enjoy!
Standard Sizes (Approximate)
| Size | Qty. 1 | Qty. 2-5 | Qty. 6-10 | Qty. 11+ |
| --- | --- | --- | --- | --- |
| 5' X 7' | $243.35 | $236.59 | $229.83 | $216.31 |
| 3' X 5' | $193.75 | $188.37 | $182.99 | $172.22 |
| 2' X 7.5' | $193.75 | $188.37 | $182.99 | $172.22 |
| 6' X 8' | $291.40 | $283.31 | $275.21 | $259.02 |
| 2' X 3' | $145.70 | $141.65 | $137.61 | $129.51 |
Only logged in customers who have purchased this product may leave a review.