Floormat.com sells floor mats all over the world.  But we sell a lot of floor mats in the US and especially as winter approaches (The slip and fall season, if you are not prepared) we sell a lot of snow melting mats to people in colder parts of the US.
But not just the type of floor mat at the door entry that your boots rest on. (And slush melts onto)
Floormat.com provides several innovative solutions for colder weather.
Outdoor floor mats that melt ice and snow are a huge seller. Why? Safety and convenience. Especially for older people in homes, not worrying about the icy patch just outside the door or along a walkway to the garage is a big deal.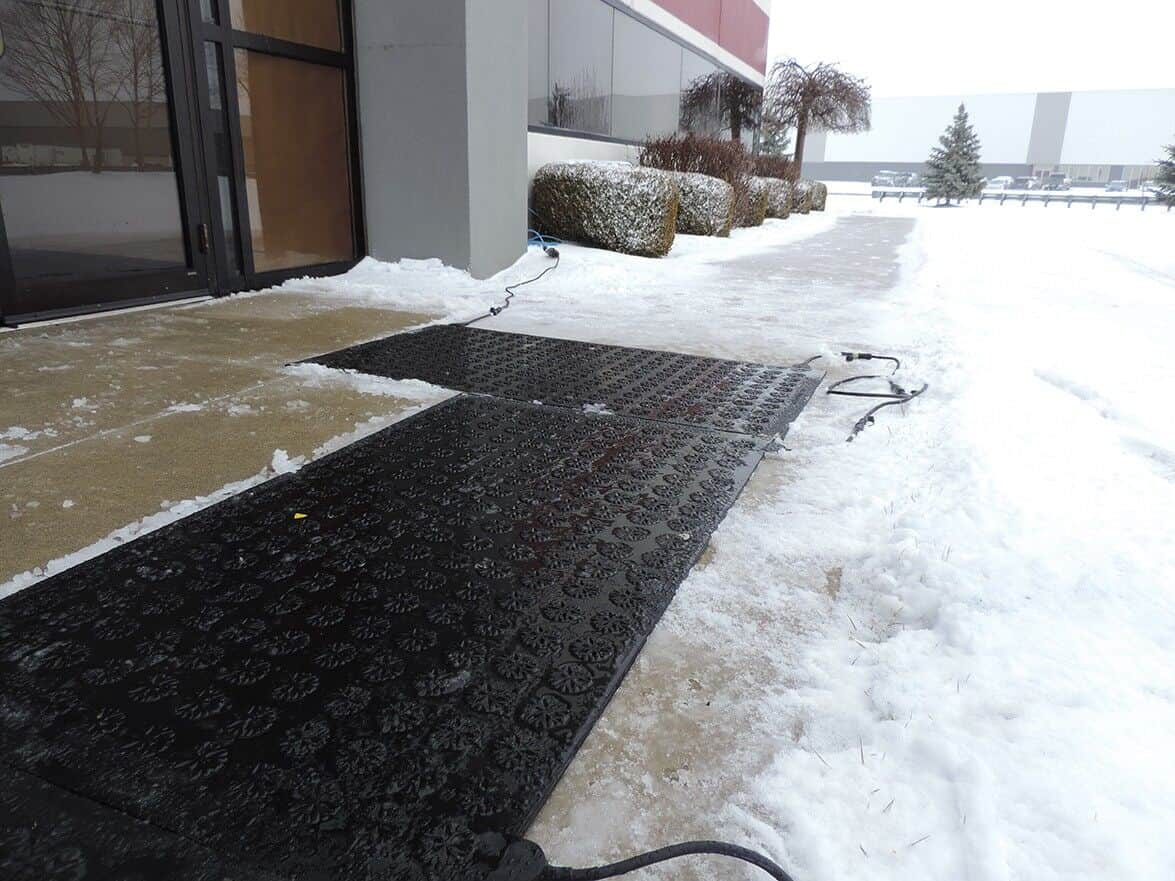 Of course, businesses can also use these heated outdoor mats to assure that snow and ice does not collect outside the entry way where customers might fall.
These issues are serious concerns about six months out of the year. Having those mats in place before the first freeze is important thought, because people are even more likely to fall when they have not been walking on ice recently. You know, by then end of Winter you are getting used to centering your balance and walking carefully, but that first icy step of a new Winter is often a slip as well, and hopefully they catch their balance.
Also, while rock salt may be cheap, it does damage the cement and the vegetation around where it is spread. Plus, when customers are tracking in rock salt on their shoes your place of business is going to be dirtier and the salt and snow melt can damage the inside floors as well. Keeping these things in mind, it is obvious that a floormat that melts ice and snow at the entryway improves safety, decreases labor costs because people do not have to keep spreading salt and shoveling snow, improves the cleanliness of your location and also helps decrease maintenance costs which could be thousands of dollars repairing damaged sidewalks or interior flooring.
Also consider the cost if you have an employee who slips and falls. Workman comp costs, lost work, training a new hire, etc. All because of a little ice that would have never formed there in the first place with a ice melting floormat in the entry way.
It is not a law, but it seems like it should be. Businesses without heated snow melting mats outside their entry ways need to get some and then they can rest easy that one simple solution is potentially solving so many potential problems and greatly reducing risks.