No one is immune to slips and falls (though children and the elderly are especially vulnerable), but there are some steps you can take to reduce the risk. One of the best ways of combating the risk of slips and falls is by purchasing some anti slip tape. There are many varieties of this helpful tape available on the market, and this guide will walk you through some of the options available to you. These tapes will help ensure that you stay safe in a variety of situations.
Anti Slip Tread Tape
Anti slip tread tape helps you prevent slips and falls down the stairs. Falls down the stairs can be especially harmful, due to the increased risk of head and neck injury. Anti slip tread tape is simply adhered to the edge of each step in your staircase. Doing so provides you with added traction when walking down the stairs. Since this tape is available in a wide variety of colors, you can pick the one that best matches your style and taste.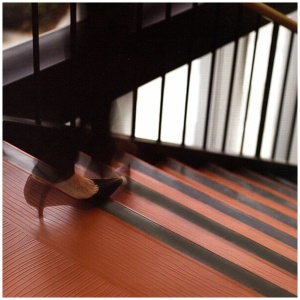 Anti Slip Waterproof Tape
"Slippery when wet" is a sign that most of us are familiar with. Wet floors elevate the risk of slips and falls, as well as the injuries associated with them. One way to greatly reduce this risk is to invest in some anti slip waterproof tape. Anti slip waterproof tape does not bow or lose its stickiness when it gets wet. For this reason, anti slip waterproof tape is recommended for use in kitchens, laboratories, showers, boats, pools, and other places where wet floors are common. Anti slip waterproof tape will help keep you safe on wet floors.
Extreme Step Tread
Extreme step tread is one of the most durable anti slip tapes available for purchase. This tape makes use of some of the latest anti slip technology, with the purpose of maximizing safety and durability. This tape is made with a proprietary formula, and can withstand extreme wear-and-tear, as well as nearly any temperature and climate. For this reason, this top-notch tape is recommended for harsh climates and high-traffic areas–situations where safety and dependability are of the highest importance for you, your coworkers, and your family and friends.
Grit Coated Fiberglass Step Covers
Grit coated fiberglass step covers are also used to provide added grip for when you are walking on stairs. Grit coated fiberglass step covers are lightweight, and ideal for use on structurally sound surfaces. The fiberglass coating on these step covers also makes them extremely durable, so that they are able to offer you permanent slip and fall protection.
General All Purpose Tape
General, all-purpose tape is a cheap and versatile tape that is intended for use in a wide variety of situations. General all purpose anti slip tape is recommended for use around the house, in work settings, and any situation where slips and falls can be prevented. It is recommended that you invest in several rolls of this tape, as it can come in handy in many situations.
Save
Save