Floor mats are an easy, elegant addition to the decor of your home, office, or business. They can provide the comfort and safety needed to keep employees and customers safe. Slips and falls reduction and the gravity of such falls are greatly reduced when using floor mats in key areas in your business. The following are some of the many benefits associated with floor mats usage in homes and businesses.
More than 50% of soil, oils, or other chemicals stay outdoors when using an entrance floor mat.
Floor mats protect the flooring of your home or business and keep it looking new for many years.
Floor mats keep the customers and employees safe. They can prevent slips and falls that can result in serious injuries.
A nice-looking floor mat can add the elegance and comfort a business is looking to achieve
An anti-fatigue mat can increase productivity and decrease the number of injuries your employees face every day.
The benefits of having floor mats are numerous, especially when you buy a high-quality mat that can last your home or business for many years. Buying high-quality mats for your office, car, manufacturing plant, retirement home or any other business is important. The quality of the mat is important, but the care you give them to maintain them from fraying, looking old and not serviceable is up to you.
During this devastating pandemic and flu season, vacuuming the mats and floors are not enough. Disinfecting the mats and floors of your place of business as well as doorknobs, bathroom faucets, etc. could possibly save a life. Airborne viruses like Covid-19 can linger on your floor mats and other high traffic areas and contaminate your place of work without knowing it.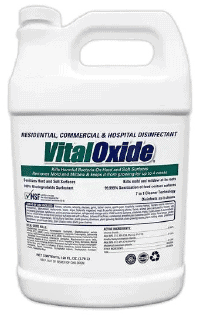 Cleaning and protecting floor mats and other high traffic areas with a good disinfectant are hard.  Finding a product that is not plagued with harsh chemicals, awful odors and harmful to your health is almost impossible. VitalOxide is one of the alternatives you can use that does not have harsh chemical and unhealthy odors that will affect your health. VitalOxide is an odorless disinfectant that can be used to kill mold, mildew, and airborne viruses.  Using this disinfectant on your floor mats can protect your employees and customers alike.  It can stop the infection rate and the transfer of viruses from one place of your business to another. When employees and customers alike feel confident the place of business, they work or frequent is safe, it gives them the assurance of returning feeling confident about their health.
The variety of mats for your home and business is vast. At floormat.com we can provide your business with a variety of mats that can fit your home or business. From logo mats, entrance mats, anti-fatigue mats, to the Stick-and-Stand mats that allow customers to social-distance while waiting in line, floormat.com has them.