Anti-fatigue floor mats are installed in various commercial and industrial settings to provide ergonomic comfort to workers and clients alike. Anti-fatigue floor mats are designed in such as a way that they absorb physical strain and stress from the muscles and joints of users who stand on them for too long. In other words, these mats relieve fatigue in the workplace hence the name anti-fatigue floor mats. These specially designed mats are usually manufactured from two different materials. Most anti-fatigue floor mats usually have a rough nitrile rubber or vinyl backing with a sponge or foam material sandwiched in between. The tough rubber or vinyl backings usually feature a rough textured surface to provide traction and enable scraping of grime, dirt and other debris. The sponge or foam material provides buoyancy to the standing user, which relieves physical strain and stress on the body. Anti-fatigue industrial mats are installed in many settings that require long standing hours, such as assembly lines, ATM lobbies, reception counters, and many other production sites. In addition to their ergonomic benefits, anti-fatigue floor mats also provide floor safety by being slip resistant. They also keep the floors clean and in good condition while enhancing aesthetic beauty in the workplace. Because of their special design and production process, anti-fatigue floor mats require special cleaning techniques and procedures. Use the following cleaning tips when laundering your anti-fatigue floor mats to avoid damaging their materials and thereby undermining the functionality and durability.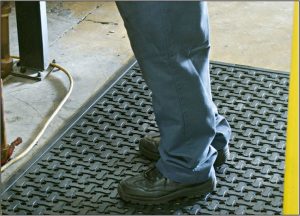 Vacuum, Sweep And Dry-Mop Regularly
All your anti-fatigue floor mats should be vacuumed, swept, and dry-mopped regularly. Your janitors can handle this simple routine cleaning exercise several times a day depending on the foot traffic. Vacuuming and dry-mopping your anti-fatigue floor mats helps to clean out all dust and other soft dirt and debris from the amt surface. You should conduct this cleaning procedure very frequently depending on the foot traffic, the weather conditions, and the mat exposure. Needless to say, you should clean the mats more frequently when there is heavy foot traffic, wet weather conditions, and lots of exposure to dirtying elements.
Wet-Mop For A Thorough Cleanup
You should also organize thorough cleanup sessions every few days or weeks based on the aforementioned factors. A thorough cleanup session will involve wet-mopping of the anti-fatigue mat with a mild detergent or soap, such as baking soda, ivory soap, or mild dish soap. The recommended pH level of the wet-mopping detergent is between 4 and 9. If your anti-fatigue floor mats are stained or spotted, you should use recommended stain and spot removers to clean the mats.
Dry The Mat Completely
After wet-mopping the anti-fatigue floor mat, you should dry it completely before installing it back. You should always lay the mat flat to dry and you should never fold it when moving it but rather roll it compactly.
Clean The Surrounding Area
Before you put the anti-fatigue mat back in its original place, clean the area underneath and surrounding the mat as thoroughly as possible. Make sure there is no dust, grime, dirt, or any debris on the floor surface beneath and around the anti-fatigue floor mat.
Avoid Cleaning Mistakes
You should never scrub your anti-fatigue floor mats with a heavy abrasive brush or tool. Never use caustic chemicals, degreasers, and/or steam to clean your anti-fatigue floor mats. Never machine wash your anti-fatigue floor mats.