Heated matting products are used to provide heat energy and hence warmth in the house or outdoors. We have both indoor and outdoor heated floor mats and these can be installed both in residential and commercial settings. Heated floor mats are specially designed matting products for specific functional applications. And just like antislip mats, heated floor mats come with specific functional specifications to solve specific matting needs. Indoor heated floor mats provide ergonomic comfort at home and in the workplace by providing warmth in the cold season. There are many different types of heated matting products in the market today. We have foot warmers that heat our toes and legs when placed underneath the desk. There are also heated chair mats designed to provide warmth to a single user when placed under the chair. Snow melting floor mats are used to melt or thaw snow and ice on outdoor pathways, stairways, and pavements. Under rug heaters are more sophisticated heating devices that provide thermal installation on hard floors and warm your indoor floor mats and carpets during the cold season. Let us now look at each of these types of heated matting products in detail.
Foot Warmers
Food warmers are light and compact heated matting products that are designed to provide warmth to the user's feet and legs. They usually feature several adjustable positions with an ergonomic design space heater and an ergonomic foot rest to provide hours of comfort and warmth. They are usually safe to touch without burning your skin and most of them are energy efficient. Foot warmers come in many different functional designs with some for the toes and feet and others for standing on. You should always consider the functional design, quality, versatility, energy efficiency, heat capacity, and safety of a foot warmer before purchasing it.
Heated Chair Mats
We also have heated chair mats that are installed underneath an office chair to provide warmth during the cold season. Heated chair mats look like ordinary floor mats except that they feature an electrically powered heating element within them. The heated chair mat produces heat and warmth when the heating element is turned on thereby enhancing blood circulation and ergonomic comfort in the workplace.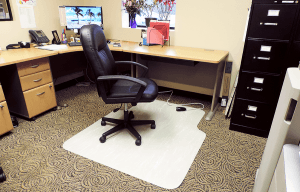 Snow Melting Mats
There are very many different types of snow melting floor mats. Basically, snow melting floor mats have a more powerful heating element that the foot warmers and the heated chair mats because they are installed outdoors for heavier applications. We have stair tread snow melting mats that are installed on outdoor stairways to melt or thaw all snow and ice that might be accumulating there. There are also landing snow melting mats that are used to melt snow on roadways and pavements. We also have driveway snow melting mats that are installed in your driveway to melt all accumulated snow. Most matting companies also have power accessories for these snow melting mats, such as extension cords/cables.
Under Rug Heaters
Under rug heaters are specially designed heated matting products that are installed underneath your carpets or floor mats. Most of these under rug heaters feature two fabrics or materials permanently sealed and coated. The lower fabric has the heating element while the upper fabric features an ordinary carpet or floor mat. The heating element is usually energy efficient and safe to sue upon plugging in.