Getting a floor mat with your logo or message is a smart move.  While people are often blind to ads that are all over the place, when they walk onto a stylish printed floor mat it stands out and makes them take notice.
Getting a floor mat printed with logo or message is easier than you think.  Just go here and order it.
Here are some ideas on how and why to get a logo mat printed.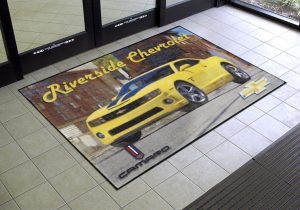 One thing is trade shows.  How do you increase people noticing your booth?  You have a printed floor mat out in front of it so even if they are just walking by, they take notice and look over at your booth.  It breaks up the monotony of the isles.
Outside your storefront in a heavy traffic area does the same thing.  While people may not look up at your sign, if they are walking across your printed floor mat, they are very likely to take notice.  Include an arrow or mention what you sell to get even more notice.
How about getting a printed floor mat with hopscotch for your daycare?  Or a giant tick tack tow game.  Or roads where young kids can drive their plastic cars?  The daycare implications for a printed floor mat are endless since kids play on the floor and engage with the floor more than adults.
How about an exit floor mat asking if they forgot a common item people buy on the way out of the store?  For example, Walmart sells a lot of bananas, but people do not go to Walmart for only bananas.  It is an add on item.  Can you make floor mat reminders of "Don't forget to get your bananas" or whatever your add on items are and place them throughout the store?
How about a floor mat that reminds factory workers about basic safety precautions as they enter the work area?
Yes, you can just get a big floor mat printed with a logo and use it for all kinds of things.  But there are many other uses as well that when used creatively can increase profits, safety and fun.  Spend some time thinking about how you can use your floor to accomplish your business objectives and then get some floor mats printed with the designs you need.  It is a small cost for a product you will get a lot of good use out of and it will keep spaces cleaner as well as send a clear message.