Thinking of upgrading your bathroom? That is definitely a wise decision! Having a fully upgraded bathroom gives you several benefits. For one, it will increase the resale value of your house, when it comes time to sell. This is because an updated bathroom will really wow potential buyers, while a drab, outdated bathroom will be a huge turnoff for potential buyers. The second big benefit is – even if you are not looking to sell your home anytime soon – having an updated bathroom will make life more comfortable and pleasant for you and your family. If you are wondering what upgrades are out there, from slip resistant mats to dual sinks, read further. This article will provide you with a list of some amazing bathroom upgrades.
Simple Cosmetic Upgrades Can Give You Huge Resale Value
A bathroom upgrade does not have to entail completely re-gutting your bathroom and building it up from scratch. A simple cosmetic upgrade can actually go a long toward increasing your home's resale value. The great news is, you should be able to handle most of these cosmetic upgrades yourself—no outside help required. Something as simple as a fresh coat of paint can add a huge wow factor to your bathroom. Wallpaper can ratchet up the wow factor too. Many bathrooms have old, outdated wallpaper that is (let's face it) not too easy on the eyes. Stripping this old wallpaper and replacing it will work wonders.
Upgrading Your Bathroom Fixtures Will Provide A Much More Comfortable Experience
Having the latest bathroom fixtures is more costly and labor-intensive than simple cosmetic upgrades, but it will make life at home much easier for you and your family. Not only that, it will boost resale value as well! Having an upgraded shower head, for example, will allow you to optimize water flow. Once you have showered with a new shower head, you will wonder how you ever went without it! Similarly, dual vanity sinks will make it much easier to get ready in the morning. No more fighting with your spouse over who gets to use the sink first—with a dual vanity, you can both use the sink at the same time! If your children share a bathroom, it is recommended that you install a dual vanity in that bathroom as well. This way, they should be able to get ready for school much more quickly, and with less fighting!
Miscellaneous Upgrades To Improve Your Bathroom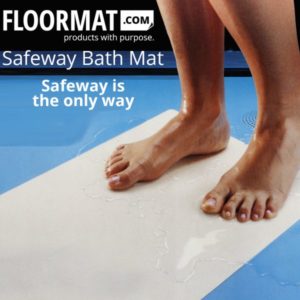 There are several great finishing touches that you can add to improve your bathroom. For one, you should place slip resistant bath mats in your shower. This will allow you to enjoy your shower, without the risk of slipping. Another great finishing touch is a mold resistant shower curtain. Mold buildup on a shower curtain (or anywhere else in your bathroom) can instantly make your bathroom an unpleasant place. A mold resistant shower curtain will help prevent mold from building up, making your shower experience (and overall bathroom experience) much more pleasant.