Have sales been slow? Perhaps you offer a great product or service, but people have not been quick to catch on to what you do. If this is the case, you may need to build your brand recognition. Even if your brand is highly recognizable, there are still steps that you can take to make it even more so. Those steps will be outlined in this article. Getting your company's name and image out there can be the difference between making millions and going bust. Building brand recognition will take time, effort, and creativity on your part, but the results will be so worth it.
Develop A Good Graphic And Make Sure That People See It
Many of the great brands have iconic logos. When most people see the "swish" logo, they instantly think of Nike. Likewise, a picture of an apple with a bite mark instantly brings tech giant Apple to mind. Hiring a graphic designer to create a logo for your company would do wonders for your brand recognition. Once you have the perfect logo, you need to make sure that it is visible to your potential customers. Having an eye-catching logo is wonderful, but it will not do much for your bottom line if no one sees it. Place it everywhere you can: on flyers, on your company's uniforms, on the sides of your trucks, even on your office furnishings. Logo mats, for example, are an easy and cost-effective way to introduce clients to your brand.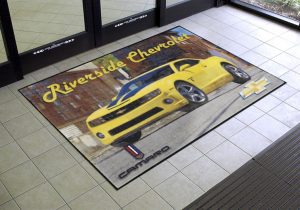 Take Full Advantage Of Social Media To Increase Awareness Of Your Brand
These days, it is nearly impossible to build strong brand awareness without having a strong social media presence. Increasingly, people (especially young people) turn to social media for most of the information that they consume—especially when it comes to purchasing. If you examine the most successful companies out there, you will notice that they take full advantage of social media in order to build their brands. This presence includes Twitter accounts, Facebook pages, Youtube channels, blogs, and snazzy websites. Social media provides a cost-effective way to reach customers the world over. If you do decide to put your brand out on social media (and you should), be prepared to invest in that decision. Merely having a Facebook page, or a Twitter feed, is not enough. You need to regularly update those sites with relevant, meaningful information. Doing so will bring you multitudes of new customers.
Do Not Count Out Traditional Advertising Channels
As useful as social media is in building brand recognition, more traditional advertising channels like TV, radio, direct mail, and billboards are still impactful. In fact, the more advertising methods you utilize, the stronger your brand will be. Advertisers have a term for this: cross channel marketing. Cross channel marketing means getting your message and brand out there in as many ways as you can. Cross channel marketing's success has been proven time and time again.
To recap these useful tips for brand recognition, market, advertise, and share.  Spreading your brand across different channels, creating a unique logo for entrance mats, pens, uniforms, and other eye-catching means of conveying your brand, and remembering to mix in traditional methods along with new innovative ways will create sizzle.  Keeping your finger on the pulse of your brand will help you capture your target demographics and turn them into buyers.