Super Foot Warmer Floor Mat
$

54.22
$54.22
Price: $54.22
Safe and economical – using one tenth the energy of dangerous space heaters.
Uses only 135 watts; 90% less than a standard 1,500 watt space heater
TUV Listed – meets strict safety standards
Warms cold feet directly through shoes or boots
Perfect for under desks & standing work stations
May be used to melt snow from boots, leaving them warm & dry
Heated Anti-fatigue Desk Mats Provide Warmth, Increase Productivity
Heated, under desk floor mats provide warmth and anti-fatigue comfort in cold climates and winter months.
The warmed mat is both safer and more economical than a space heater.
Features & Benefits
Winter Warmth Mat generates a radiant heat which creates an extremely comfortable even heat while reducing fatigue and stimulating circulation.
Increased economy and safety!
Timer accessory assures that never again will an owner or manager need to return to the office to make sure space heaters are turned off. It also provides on-off function so the mat does not have to be plugged/unplugged to control function.
Even should the Winter Warmth Mat be left on, it assures safety and lower energy costs than space heaters.
Ideal for people who spend long hours on their feet or in cold environments, including bank tellers, toll booth operators, machinists and any other users of space heaters.
Designed for use on hard floors only (do not use on carpet).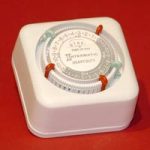 The Winter Warmth Mat timer accessory can be preset so the mat will turn on or off automatically creating a warm working environment before you even get to work.
The overall thickness of the Winter Warmth Mat is 1/2″ consisting of 3/8″ foam and a 1/8 vinyl finish. This mat reduces fatigue from either sitting or standing and has beveled edges on all four sides making it ideal for many applications.
There is a two year warranty/replacement policy.
The U.S. Consumer Product Safety Commission estimates that more than 25,000 residential fires every year are associated with the use of room (space) heaters. More than 300 persons die in these fires. An estimated 6,000 persons receive hospital emergency room care for burn injuries associated with contacting hot surfaces of room heaters, mostly in non-fire situations.
"After sitting for hours, I enjoy resting my feet on the Winter Warmth Mat. It is very relaxing on the feet and legs."
– Mary Davis, HT (ASCP) of the Cleveland Clinic Foundation
"I work as a Floor Manager at a factory and spend almost my entire workday on my feet. Not long ago I developed a bone spur in my heel, which causes my foot to ache.
I recently was given your Winter Warmth Heated Floor Mat to try. Not only did the mat ease the general fatigue of standing in one place for long periods of time, but the heat all but eliminated the pain of the bone spur, making it comfortable to stand flat footed.
Thank you for your product. I am very impressed"
Donald Yoast
Advanced Specialty Products, Inc.
428 Clough Street
Bowling Green, OH 43402
Electrical Approvals:
TUV Certified to UL 499:2005 R3.06 (U. S. only, not Canada)
Foot-Warmer & Super Foot Warmer Insulated Heat Mats
NOT for use on carpets. All orders processed on a secure server.
Greener Heat
The heated mat obviously does not have the intensity of a space heater. What it does produce is a healthier radiant heat which should increase worker productivity.
Cornell University Research Shows Temperature Effects on Productivity (view details)
What You Can Expect From The Heated Desk Mat
When the room temperature is 68 degrees the floor temperature is generally about 60 degrees except on an outside wall. The floor temperature on an outside wall could be as low as 53 degrees and could be colder on a slab floor . This is why one experiences cold feet and legs. The surface temperature will vary depending upon the floor temperature.
If the floor temperature is 64 degrees, the surface temperature of the heated desk mat will be 110-112 degrees.
If the floor temperature is 53 degrees, the surface of the heated desk mat will be 105-108 degrees.
Energy Facts about the Heated Desk Mat
Average Space Heater: 1000 to 1500 watts
The Heated Desk Mat: 72 watts
*The space heater on average uses 17 times more energy
Cost per hour of operation (average):
Space heater: $0.09 – $0.12 per hour
The Heated Desk Mat: Less than $0.01 per hour
Approx. Cost Savings per week (8 hours operation 5 days a week):
Space Heater: $4.00 per week
The Heated Desk Mat: $0.32 per week
Savings per month: Over $15.00
These are average numbers and may vary depending on the cost of your electricity.