Is your bathroom looking a little…blah? Perhaps it has clashing colors, outdated tiles, and fixtures that don't work quite the way you want them to. If this is the case, then maybe it is time for a bathroom makeover. With the right knowledge, materials, and effort, you can turn that dull, uncomfortable bathroom into an eye-catching sanctuary. Read below to find out how you can turn your drab bathroom into your dream bathroom.
Cosmetic Upgrades
You can give your bathroom a lot more pizzazz just by doing a few simple cosmetic upgrades. For example, bathrooms in many older homes have wallpaper that is outdated and – quite frankly – downright hideous. Fortunately, even the ugliest wallpaper can be removed. Try stripping the walls and adding wallpaper that is much more pleasing to the eye. If wallpaper is not your thing, you could forgo it altogether and add a fresh coat of paint. Tiles can be removed and replaced as well. This is a costlier and more labor-intensive project, but it could make the difference between a drab bathroom and a fab bathroom.
Accessorizing Your Bathroom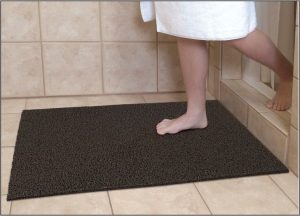 There are several accessories that you can add to your bathroom to make it much more pleasant and convenient. One such accessory is a mold-resistant shower curtain. Nothing can ruin an otherwise pristine bathroom like a shower curtain that is covered in mold and mildew. As the name implies, mold-resistant shower curtains are coated in chemicals that help prevent mold and mildew from even forming. You will still need to spray these regularly with Lysol or other disinfecting spray, but your chances of having a grimy shower curtain decrease dramatically when you buy one of these curtains. They can be found at most home goods stores. For another nice little touch, try purchasing a heated bath mat for your bathroom floor. There are few feelings more uncomfortable than stepping out of a nice warm shower into a freezing cold bathroom. These mats will warm your feet as soon as you step out of the shower, so that the change is not as much of a shock. Speaking of stepping around in the bathroom, another very helpful bathroom accessory is anti-slip padding. These are adhesive bath mats that you place in the floor of your shower or tub. They stick to the floor, but prevent you from slipping on the wet surface.  Buy some along with your mold-resistant curtain!
Upgrading Your Bathroom Fixtures
You may also wish to upgrade some of your bathroom fixtures. One popular upgrade – which you will see in many contemporary bathrooms – is a raised sink. This is where a raised ceramic bowl is placed on top of the sink stand, rather than being carved into it. This is a nice touch that can add that extra hip factor to your bathroom. You may also wish to purchase dual sinks, so that two people can use the sink at once!