"Going green" is a phrase that you certainly hear a lot these days. That being said, it is not just a mere catchphrase. Rather, it is a way of life that many people have embraced. The thought of going green might seem intimidating to some people, but it does not have to involve something as extreme as living off the grid and growing your own food. There are simple steps that you can take to cut down on waste and do your part for the environment. One simple way that you can help out the environment is choosing to stock your home or office with products that are reusable and/or sustainable. This article will highlight some ways that you can do exactly that. Read below to find out how you can help maintain the planet, while also maintaining your lifestyle.
Purchasing Recycled Products
Many consumers are familiar with the typical products that are made from recycled materials – napkins and paper towels, bottles and cans, paper plates – but you might be surprised at exactly how far you can go with stocking your home or office with recycled materials. For instance, you can find glasses and vases that were made from recycled glass. If you have an office (or home office), you can stock your printers with one-hundred percent recycled paper. Even your floor mats can come from recycled materials! WaterHog Eco Elite floor mats, for example, are made from 100% recycled materials. When using items yourself, it is important that you "pay it forward" and make sure to recycle them. Most cities have recycling pickup services, so you should not need to take it out to a recycling plant yourself.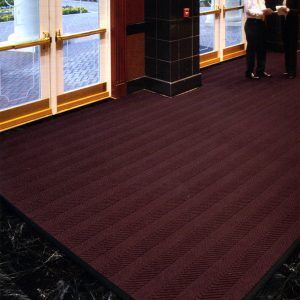 Using Reclaimed Materials
Unlike recycled materials, reclaimed materials have not been broken down in a factory and completely refashioned. Rather these are (mostly) intact, discarded materials that are being reused for new purposes. Such materials have become very popular choices for home furnishings. There are even stores that sell furniture and fixtures made entirely from reclaimed materials, such as salvaged lumber and scrap metal. By shopping at such stores, you can find some funky, eco-friendly furnishings for your home. There is no need to sacrifice style and taste for green living: you truly can have it all! If you are especially crafty, and creative, you can make your own home furnishings out of reclaimed materials. There are plenty of DIY websites and videos that provide detailed instructions and tips on how to do this. The important thing is to have a keen eye. If you see something that really grabs your attention, maybe at a scrapyard, or perhaps even on the side of the road, pick it up and let your imagination run wild. This is an area where you can really let your creative juices flow! This could become a hobby that ends up saving you big bucks on home furnishings, while also helping to save the planet in the bargain.
From sustainable and earth-friendly products, to recycled floormats and used furniture, you can see there are many ways to furnish and decorate your home, offices, buildings, and shops in a "green" matter.