Rubber floor mats are becoming more popular in both homes and businesses. They are becoming an increasingly important necessity for businesses, including manufacturing, restaurants, hotels, gyms, and schools. It is not surprising many small business owners and management teams want to acquire these floor mats for their premises.
There are many useful benefits floor mats offer to the many businesses across industries. For example:
It offers safety to its employees, preventing them from falling or sustaining injuries from spills or wet floors.
It gives employees the support they need to stand for extended periods of time, making them more productive and comfortable.
It provides the support they need to stay healthy and prevent serious health issues such as sore muscles, swelling feet, or lower back injuries.
Rubber flooring is an additional safety measure that can protect employees from falls and slips. Rubber mats can be used to reduce the severity of falls and protect employees from broken bones and serious head injuries.

For many businesses, rubber floor mats are a great way to increase productivity and protect their employees. Numerous studies have shown that employees who feel comfortable at work are more productive, less likely to be injured, and generally happier.
By providing some comfort to your employees, you are sending the message that profits are not the only motivator for you or your management team.
For example, installing anti-fatigue floor mats for those employees who stand on their feet for many hours every day is one example you and your management team can show appreciation for the work they do every day. Furthermore, their productivity can increase, their injury risks can decrease, and the sense of appreciation is great.
The use and need for floor mats across industries are undeniable. The old, ugly rubber floor mat that we remember is long gone. The floor mats of today can complement the decor you already have in your business while providing the safety and cleanliness you need.
For example, A Portrait Floor Mat is a stylish floor mat with a parquet pattern made with a tufted Decalon yarn.  This stylish feature will allow the scraping and drying process to be easier while trapping moisture and debris to keep your floors and entrance a bit cleaner and safer. Its great features allow your business and home to keep moisture and debris from the outdoors at the entrance of your business or home without tracking them indoors. Their contemporary designs and patterns are aesthetically pleasing and won't clash with your current home decor.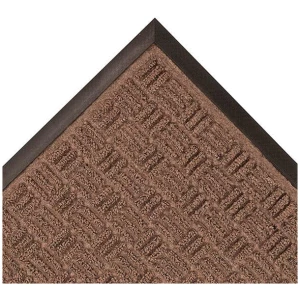 Many businesses can benefit from these beautiful, long-lasting, and fashionable floor mats. Especially industries where the likelihood of an injury is high.
Long-term care facilities are businesses that can greatly benefit from floor mats across their premises. These facilities are one of the most high-risk areas where slips and falls are frequent, and the risk of a serious injury is too great. The National Institute of Health (NIH) states that 60% of long-term care residents fall at least once a calendar year. 30% of those falls lead to injuries that require hospitalization.
Many of these facilities face safety challenges on a daily basis. The need to prevent falls and injuries among their residents, as well as the severe consequences they face if an accident occurs can be detrimental to their profits. And even though floor mats won't be the solution to their problems, they will certainly help them alleviate some of the injuries that can happen to their residents.
One solution these facilities found promising was the installation of compliant flooring within their premises. Compliant flooring can help prevent injuries among the residents and can reduce the impact of falls and prevent injuries among them. But, more importantly, it can save many residents from having to go to the hospital or emergency rooms with serious injuries.
The common areas of these facilities can all be covered with rubber mat flooring that can prevent slips and falls. Beautiful rubber mat flooring can be used in dining rooms, bathrooms, recreation areas, and other high-traffic areas. These floor mats can prevent slips and falls, and add beauty and elegance to any room.
You will find many stores that sell low-quality, cheap floor mats for you. At floormat.com, we offer your business a huge selection of high quality, durable, especially engineered floor mats that will last, and offer you the safety and quality your business need. We are proud to offer the business products that you will be proud to own. You will not find the quality, design, selection, and affordability our flow mats offer your business anywhere else. Contact us today to talk to a customer service representative that will answer your questions about the availability of products, prices, and installation.