Airborne illnesses across many industries are one of the major contributors to employees calling off sick and taking time off from their jobs. Airborne illnesses are a fact in many businesses and business owners are aware of this fact. Many companies try to minimize employee absenteeism by providing their employees with disinfectants and in some cases antimicrobial products to stop the spread of germs and other pollutants to the inside of their offices, or buildings.
AT floormat.com, we are in the business of offering everything you need to have to make your business successful and to let us take care of the cleanliness of your place of work.
If you are the principal of a school, manager of an office building, or owner of a small business, we have everything you require to make your place of business clean and safe for your employees.
Schools: There is no denying the cleanliness of schools across the country is pivotal to the health of the students and detrimental to their health if this is not taken seriously. Offering floor mats across hallways, entryways, locker rooms, swimming pools, and other areas where the probability of a fall or the concentration of germs is high is important for the health of their students and staff.  Classrooms, in general, are free of floor mats which is understandable, but the entryways must have some type of protection from slips or falls, and from the heavy daily traffic in such areas.  During spring showers when the floors are slippery and can become dangerous, the floor mats can be a needed convenience many schools cannot do without. 
Cleaning your school floor mats is important as well. View our floormat cleaners here.
The WaterHog Mats are the industry standard in scraper/wiper floor matting.  They have the absorbing power of 1 1/2 gallons of water per square yard, and they are the floor mat you need to have at the entrance of your business.
Another floor mat you need to have at the entrance of any building is the WaterHog Eco Elite Fashion Floor Mat. This is a floor mat recommended for commercial buildings, hotels, restaurants, healthcare facilities, and office buildings. With its 3/8″ thick bi-level surface, this floor mat will ensure the removal of dirt and moisture from beneath the soles. Its backing contains 20% of recycled materials and it is reinforced to last longer and perform well for many years.
Another great example of a floor mat you need to have is the WaterHog Grand Classic Floor Mat. It is a fashionable scraper mat with a fabric border, 3/8″ bi-level surface, and a unique "water dam" that will trap water and debris and keep them on the floor mat. This beautiful floor mat will give your business the beauty, durability, and effectiveness your business deserves.
For the fall and spring seasons, slippery and dangerous floors are a fact for many daycare centers across the country. There is a constant flow of parents, teachers, and children entering the premises on a daily basis. The management of these places is aware they need to provide a safe place for them to be and a safe place for the parents entering these buildings to come and go safe.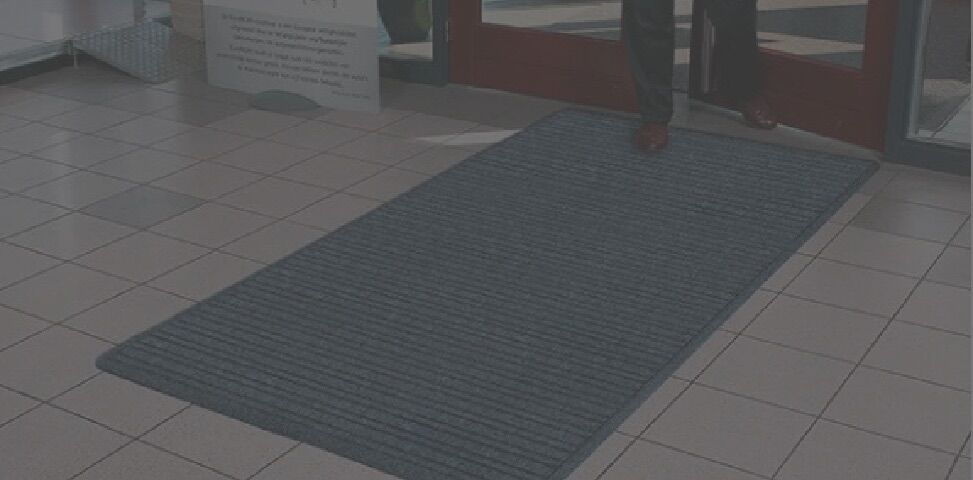 Antimicrobial floor mats for children are a necessity they must provide to keep illnesses at bay and to stop the spread of germs across rooms, and social gathering areas where the amount of children playing is a fact of a daily day. During flu season, every area in a daycare center needs to be disinfected and kept clean to keep the children and staff healthy. At floormat.com, we offer these daycare centers the ability to acquire floor mats for their business and disinfectants to keep the floor mats they acquire clean and looking new for many seasons.  We offer daycare centers a variety of placemats for the children to do their daily activities. Colorful placemats will grab the attention of the children, and keep them in place to do their learning in a colorful environment.
Many businesses believe cutting expenses in some areas will bring them more savings or financial stability in the long run. But, by cutting some expenses many businesses can jeopardize the security and safety of their employees. Floor mats in many areas of a business can keep your employees safe and keep them working long hours without jeopardizing their health or their safety. For example, anti-fatigue floor mats have been shown to alleviate some of the discomforts employees suffer when standing on their feet for many hours a day. Also, anti-fatigue floor mats have been shown to help mitigate some of the lower body pains and aches these employees suffer when standing on their feet for more than eight hours a day. These studies have shown to increase employees' productivity as well, and that's a financial gain many businesses realize they need to have.
The price of a floor mat is small when compared to the many benefits they bring to the workplace. For example, floor mat installation across the building can offer business safety, a welcoming and comfortable environment, plus free advertisement when purchasing a logo mat for their business.
Many business owners believe purchasing floor mats for their business will clash with the décor of the office. At floormat.com, we have a huge selection of floor mats that are beautifully designed to complement and even enhance the décor of your office. We have a huge selection of high-quality, colorful, beautifully made floor mats you will be proud to own.