Entrance floor mats are usually placed at the interconnecting physical link between the interior and exterior of a building. Simply put, you usually step on an entrance mat when entering a building. You use the entrance mat to scrape the dirt and moisture from your shores and then you enter into the clean warm space indoors. Suitably, entrance mats are also called outdoor-indoor floor mats due to their functional application. Entrance floor mats are made from a wide range of materials including carpet fabrics, rubber, and some tough plastic polymers called vinyl.
Matting Materials
All of these materials are very much popular because of their functional benefits. For starters, they all provide floor mats with all the standard safety features. Modern production techniques have enabled mat producers to create incredible surface patterns using any of these materials. You can now buy a mat with a very impressive surface design made from carpet fibers, rubber, or vinyl. And when it comes to toughness, you can rely on any of the three materials equally. Carpet fibers last long, rubber lasts forever and vinyl matting can even beat all two. It all comes down to functionality, application, cost, quality, and the already guaranteed longevity. As such, we are now experiencing the best in matting. Like any other material, rubber entryway mats offer various advantages and disadvantages to the user. They are all discussed below.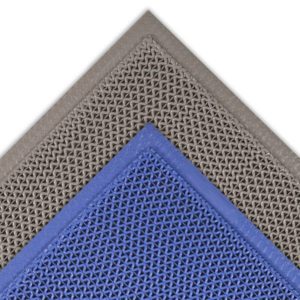 Advantages Of Rubber Mats
Rubber is one of the toughest and hence most durable materials on this planet. Although it might not be the most popular option in mat making, rubber offers one of the most reliable materials in the world. Entrance mats are supposed to be some of the hardiest floor protectors and hence they need to be created from a tough material. One of the main advantages of using rubber in the creation of entryway mats is that it gives them extra long life. It can also be designed in infinite pattern designs that enhance its scraping functionality. As mentioned above, entrance mats are mainly used for scraping dirt and moisture from your shoes when entering a building. Rubber entryway mats are capable of doing this and more. As you very well know, rubber does not absorb water. As such, rubber entryway mats do not only get rid of outdoor dirt, they also stay dry. This brings us to the third advantage of using rubber entrance mats; they are easy to clean. Rubber does not get coated with dirt and water. As such, you can very easily clean rubber floor mats after a very dirty experience. And another amazing advantage is that most of the rubber used to make floor mats comes from recycled tires. This means that rubber is an eco-friendly material for making mats. And lastly, rubber is not only waterproof, its grease, oil, and chemical resistant, which makes it multi-applicable in various industrial settings.
The One Minor Disadvantage
Rubber floor mats do not have any major disadvantages. One of the main problems with rubber is that it is not organically disposable. In other words, rubber is just like plastic, it does not decompose. The good news is that it can easily be recycled to create new eco-friendly matting products. The final conclusion is that rubber is one of the best materials for making floor mats.