Industrial floor mats are designed for installation in commercial settings. Most industrial mats share the same functional features all aimed at enhancing workplace safety and protection. We are talking about standard function applications to ensure traction on wet and slippery surfaces, ergonomic comfort in stressful and straining working conditions, warmth during chilly weather times and such motivating conditions. In addition to all these fundamental workplace uses, some industrial mats are specially designed for specific applications in line with specific industrial applications. Commonly referred to as specialty industrial mats, these specially designed floor mats feature some of the following unique functional features to enhance their application in special settings.
Antimicrobial Features
Antimicrobial matting systems are usually designed for medical applications. These are antiseptic floor mats that are meant to ensure and sustain sterility and cleanliness in the workplace. They are usually installed in medical labs, operating theater, histology departments, ICUs, and other sensitive medical environments and chambers. Like many other types of specialty industrial mats, antimicrobial matting systems usually incorporate most of the standard functional features mentioned above for anti-fatigue, heating, waterproofing etc. You can also optimize their functionality by including other safety floor solutions like slip resistant tape or expressive floor signs to indicate directions and point out hazardous sections and areas.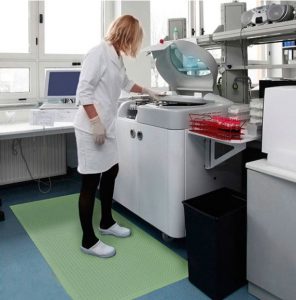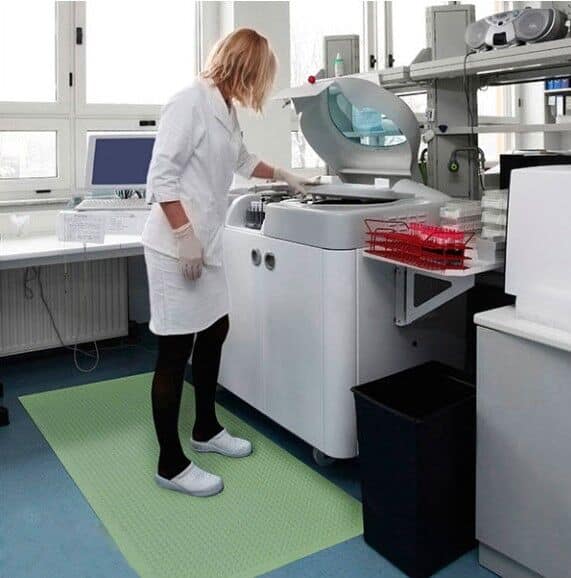 Electrostatic Dissipative (ESD) Features
Some industrial floor mats come with electrostatic dissipative (ESD) features to keep the workplace safe from electric shock. These are also called welding safe matting systems because they come in handy in the welding industry. ESD matting systems feature electrically conductive and static dissipative features that conduct and neutralize electric and static charges safely in residential and commercial settings. And like the antimicrobial matting systems discussed above, ESD floor mats also contain a host of standard industrial applications including ergonomic comfort and traction.
Noise & Vibration Reduction Features
The specialty features in these matting systems are pretty straightforward. They are designed to reduce noise and vibrations in various commercial settings. As such, these mats come with noise and vibration reduction pads to absorb excess dissonance in vibrant work environments like gyms and fitness centers. Not to mention that they also contain other fundamental industrial features to reduce muscle stress when one is exercising. Noise pollution can undermine the productivity of workers and clients in your workplace and also in neighboring environments. This is the same problem with having vibrations in the workplace. Noise and vibration reduction floor mats help reduce such distractions in the workplace and hence result in optimized productivity in the any commercial setting.
Other Specialty Features
There are a host of other specialty features that are related to the proofing or resistance of various compounds. Some specialty industrial floor mats are resistant to water, grease/oil, chemicals etc according to their specific applications. Generally, waterproof mats are the most common because water poses various safety risks in many industrial settings. Grease and oil resistant floor mats are preferred in various commercial settings because they ensure that the workplace area is kept clean and intact. Chemical resistant floor mats ensure that the floor does not react with various chemicals being handled in the workplace; thereby preventing floor damage and also protecting the workers and customers from suffering chemical injuries.