Carpet floor mats are usually used as entrance mats or entryway mats. When selecting the material of a floor mat, you should always consider the type of material to ensure its functional suitability and durability. The three main types of materials for making floor mats are rubber, carpet fibers, and vinyl. Carpet floor mats are usually made from strong synthetic fabrics like PET polyester and acrylic. Although they are also used in commercial and industrial settings, carpet floor mats are mostly preferred in residential environments. Their personable and relatable ambiance makes them more attractive inside a home. However you should not mistake their residential preference for a functional weakness. Carpet floor mats are just as good in the workplace as they are in the home. They offer the following functional benefits in both settings.
Slip Resistance
Like all other floor mats, which can be used as entryway mats, carpet mats offer traction. As the name suggests, carpet mats are created from crenelated fabrics like carpets and rugs and these are all about slip resistance. In wet conditions and on wet floors, carpet mats are simply the best. They protect you from slipping and injuring yourself on a wet floor thereby ensuring safety and protection at home and at the workplace.
Scraping Features
Carpet floor mats feature rough fibers that trap dirt, moisture, and winter salt upon scraping. These mats are specially designed to ensure that you do not retain any unwanted dirt upon scraping on them. This means that they protect the interior floors from damage from coarse dirt and that they also maintain cleanliness indoors. They are also suitable for application as industrial mats for heavy-duty scraping in high traffic environments, and also for home protection during dreary weather conditions. To enhance their scraping functionality, many carpet mats usually create a damming effect, which captures dirt and moisture, using a raised-edge design.
Beauty
Some of the most exquisite mat designs are featured on carpet mats. Due to their wide range of material designs, carpet mats offer an infinite taste of floor aesthetics. You can do anything with carpet mats. Carpet mats can be used as logo mats with colorful advertising messages on their topside. They can also be used to decorate the inside of a house; not to mention an office. Some of them even bear signs and hazardous messages to communicate various important messages in the workplace. When selecting a nice carpet floor mat for your home's indoors, make sure that it matches or even complements the interior décor. You can also use a carpet mat as an entryway mat provided you include an amiable message on your doormat.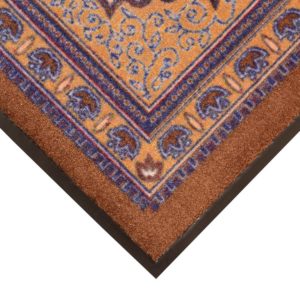 Durability
And last but not least, carpet floor mats are some of the most durable mats in the industry. Created from hardy and extra tough materials like PET polyester and acrylic, these mats can live longer than you expect. In order to enhance their longevity, some carpet mats feature vinyl backings, which makes them water proof. Not to forget that some of the PET polyester used to make them is obtained from recycled plastic water or soft drink bottles.