Operating a business is tedious. Business owners have a difficult task of protecting their investment and the well-being of their employees. Commercial matting can impact the bottom line of a business in three ways. These mats impact the safety and health of the organization, its appearance, and the cleanliness of the facility.
Safety And Health
Properly placed entrance matting creates a safer environment for customers. However, it is not just customers that business owners need to concern themselves with. The health and well-being of their employees should also be recognized. Pain that is associated with standing for long periods of time on a hard surface, can negatively impact employees attitudes.
There is an adage commonly used in the workplace that states "when we feel better, we perform better". This adage is a clear indicator that an employee's comfort can affect other aspects of their performance. Attitude can impact company morale, turnover, productivity, and a company's profit margin. If the employees are dissatisfied in any way, their attitude will be reflected in their work performance. Investing in floor matting can fix this problem.
Appearance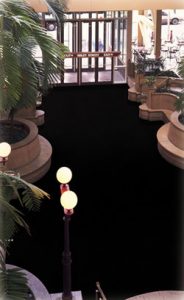 Research has shown that ninety-one percent of shoppers choose to shop at a store due to its appearance. The first impression that a customer will get of an organization is based on how their floors look. While large organizations can employ people to keep their stores clean, smaller businesses may find it difficult to uphold the appearance they would like their store to have.
The cost of lost business due to a dirty floor cannot be measured. Most businesses rely on word-of-mouth referrals from repeat customers to stay operational. Investing in proper matting for your commercial space will give your business a positive image that will result in repeat customers and clients.
Cleanliness Of The Facility
Approximately, seventy percent of the dirt and grime that appears in a building is tracked in from outside. The dirt gets caught on a person's shoes, and they carry it with them. Many people carry around dirt on their soles, without knowing they are doing so. Placing a floor mat in the entrance of your business will reduce the amount of dirt drug in.
The mats will also provide a place where water can be stored. This will result in less dirt making its way into the facility, and decrease possible slip and fall accidents. Mats that have been properly placed will provide a safe surface for guests to scrape off any debris that was brought in from outside. The cost of a slip and fall accident can easily exceed $12,000. This cost can either make or break a small business.
Quality Flooring Is Important
Businesses are liable for everyone that enters their doors. It is the task of the business owner to ensure that their employees and customers are safe when they are inside their premises. Floor matting provides an inexpensive way to protect any entities that walk in and out of your business. They promote safety, enhance the appearance of the facility, and promote cleanliness. These three factors are vital to your businesses operation.