It seems like we are constantly trying to figure out new and creative ways to upgrade our homes. Everything is fair game, from granite countertops to crown molding, to stainless steel appliances. One of the most popular home upgrades these days is hardwood floors. Today's homeowner prefers the look and character of hardwood to carpet (hardwood floors are also much easier to clean). That is right; the days of shag carpeting have definitely come to an end! Most homeowners' only reservation about hardwood floors is that they lack the softness and comfort of carpeting. If you feel this way, consider placing floormats throughout your house. Floormats allow you to have the best of both worlds: the look and character of hardwood, with a soft surface to walk on, especially with a kitchen floormat in front of the sink or stove.  What's more, these mats can be colorful and eye-catching as well! If you would like to know more about which floormats are available, and how they can benefit your home, read on.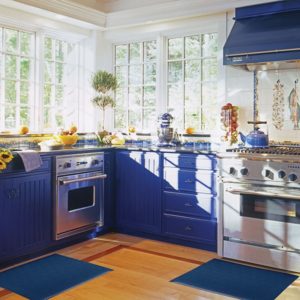 Chair Mats
If you have a home office, then chair mats are a definite must. When you roll a desk chair over hardwood, it can scratch and scoff the beautiful wood surface. Chair mats prevent this from happening. They are clear, plastic mats that allow chairs to roll over them easily, without ruining the floor. Even if you do have carpet in your home office, chair mats are highly recommended, because it can be difficult to actually roll over the soft, carpeted surface. Chair mats are relatively cheap, durable, and can be purchased online.
Floormats For The Living Room
If you are looking to spruce up your living room, placing large, soft mats over the hardwood floor is definitely recommended. The living room probably sees more foot traffic than any other room in the house, and if you have small children, chances are they will do a lot of crawling around on your living room floor. Large floormats can make this a much more comfortable experience for all involved, while also reducing the risk of injuries. Not only that, indoor floormats can contribute to the aesthetic design of the living room, as different materials and colors can provide a nice accent to the design scheme. Many homeowners also choose to place mats under couches and living room chairs, to prevent scuffing on the floors.
Bathroom Mats
Another room where floormats are very useful is in the bathroom. Floormats can serve a variety of purposes here. For one, they can provide a colorful accent to a small room where a little accent goes a long way. Also, they provide a soft surface for you to stand on while you are getting ready at the sink. This is especially useful, considering that bathroom floors are often made out of materials like tile, which are not only hard, but cold as well! Finally, bathroom mats that are placed in front of the shower can both prevent you from slipping, and provide you with a surface on which you can dry your feet off