Branding is an important marketing tool for any company. The more you can get your company's brand and logo out there for potential clients to see, the better off your company will be. Logo mats bearing your company's logos are a great, functional way to achieve this goal. Mats with logos serve two purposes: they provide a place for employees and customers to wipe their feet, and they help build brand recognition for your company. If you were wondering which logo mats to buy, or even how the process of ordering a logo mat works, read further. This article will serve as a handy guide to all things related to logo mats.
How Logo Mats Are Printed
You read that right: logo mats are typically printed. In most cases, the logo is printed onto the mat with a state-of-the-art digital printer. Digital printing offers a few advantages. For one, it allows for photo-quality images to be printed on the mat. Digital printing also allows for the printing of 3-D images. With this technology, your logo mat can really pop! In order to get your company's logo onto the mat, you would typically provide the mat company with a digital photo of your logo, sent as a text file, via computer. The mat company would then send you a digital proof showing how the final product would look; similar to if you were having a marketing brochure printed. Once you approve the proof, the mats are good to run. These days, most of the setup and exchanging of files can be done online. The mats can be purchased online, too. 3-D logo mats really make a statement!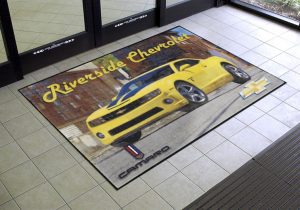 Inlaid Logo Mats
This is an alternative logo mat to the classic, printed mat. With this style, colored pieces are assembled like a jigsaw puzzle to create the logo. Sound far-fetched? The process is actually quite fascinating: a hexagonal, patterned material – that comes in several color options – is inlaid to create the logo. It should be noted that this process does not yield 3D, photo-quality images, like the process above. That said, it does allow for a crisp, sharp image. Inlaid mats also allow for the use of sturdier, more durable material than what is used for digital-print logo mats. For this reason, these mats are recommended for outdoor use, as they can withstand nearly any type of weather or treatment.
Where To Place Your Logo Mats
Because your logo mats bear your company's image, it is best to place them in areas where they will be most easily seen (you typically want to place floor mats in areas with high foot traffic anyway). Many businesses choose to place these mats in front of their main entrance, as well as in their lobby or reception area. You will likely want to place a smaller mat in front of your door, and a much larger one inside. You want these mats to really make an impression on your clients.