Contrary to popular belief, logo mats are not a luxury accessory in the workplace. In fact, logo mats are essential additions to any business because they play a critical role in advertisement and brand promotion. Logo mats are considered specialty types of floor mats because in addition to fulfilling the basic functional roles of standard floor mats, they go a step further to serve as decorative and promotional items in commercial and industrial settings. This means that depending on their site of installation, logo mats also act as heated mats, entrance mats, and general indoor and outdoor floor mats. As the name implies, a logo mat is defined by the presence of a graphic logo and sometimes slogan on its topside; and sometimes bottom side. Naturally, the featured logo belongs to the company or business in which the mat is installed. As such, most logo mats are customized to feature the trademarked logo or brand of a specific company. Logo mats serve many different functional purposes but the following five are the most prominent.
Advertisement
As mentioned above, logo mats are mainly associated with advertisement and brand promotion. By featuring the logo of a specific company and perhaps its promotional slogan on its face, a logo mat provides a free but very expressive advertisement platform for any business. Companies optimize this functionality by creating flashy catchy graphics, which are easy to remember, on the face of a logo mat so that customers can have lasting memory impressions of the company's identity and brand imagery.
Safety
Another key application of logo mats is floor safety. This is a major reason to invest in all types of floor mats because it works both ways. Firstly, floor mats protect the floor of the workplace from damage by high human traffic and heavy machinery. Secondly, floor mats protect humans from accidental falls on the same floor due to poor traction. Most logo mats are designed as slip resistant mats to prevent employees and customers from suffering accidental falls on wet floors.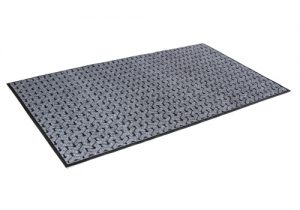 Cleanliness
Another reason to invest in logo mats is that they help to keep the floor clean and hence to make the entire workplace decent and fresh. This reason borrows from the aforementioned benefit of protecting workplace floors. But while the former point includes all kinds of physical damage to the floor, here we only concentrate on the issue of dirt and cleanliness. Logo mats, especially those that are used as entryway mats, are designed to trap dirt, moisture, and other impurities from outdoors thereby keeping the indoors clean and uncontaminated to a certain degree.
Beauty And Positive Impressions
Another compelling reason to buy logo mats for your business is that they are used to enhance the beauty of the premises. Adorned with colorful graphics and featuring stylish designs and colors, logo mats are some of the most aesthetically pleasing accessories in any workplace. As such, you should consider using logo mats to enhance the décor of your business environment. And with regard to the same beauty, you will find that your logo mats will help create a positive impression on visiting clients and customers. If properly designed and customized, logo mats create lasting impressions on customers. They also promote a welcoming feeling among visitors thereby making the workplace more inviting and homely.