Floor mats and matting solutions are usually classified according to many different features. Some consider the design of the mat, others factor in the functional attributes of the mat and others are interested in the intended site of installation or application. In this article, we will look at the materials used to produce floor mats. When you consider the production material, you will realize that there are only three major types of floor mats, namely rubber mats, carpet mats, and vinyl loop mats. Rubber is the most popular material for producing mats. Rubber is mainly preferred for making mat backing because it is tough and long-lasting. It is also suitable for industrial applications because it is waterproof, chemical, oil & grease resistant. Carpet mats usually feature an ordinary clothing material like acrylic or polyester held in between rubber backings. Capet mats are very colorful and aesthetically appealing; they are also used for floor protection and safety.
Vinyl Floor Mats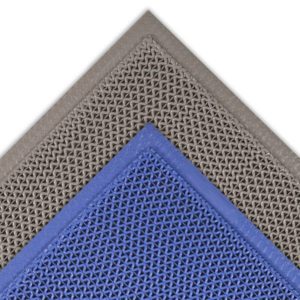 Vinyl floor mats are produced from a tough synthetic flexible plastic polymer. Unlike rubber, vinyl floor mats do not have a grip backing. These mats have a smooth backing and hence are only suitable for installation on hard floor surfaces, such as tiled floors, wood floors, or marble floors. Vinyl mats can be installed both indoors and outdoors and they are especially popular because of their durability and ease of cleanliness and maintenance. Depending on the intended application, vinyl mats can serve as anti slip floor mats, anti fatigue floor mats, and even as specialty commercial matting solutions. They usually come with distinctive embossed surface patterns for scraping and trapping dirt and other debris. Vinyl mats can either be backed or un-backed and they usually feature a cushiony foam material for buoyancy. They are very popular as entrance or entryway mats. Compared to rubber mats, vinyl mats are more chemical and moisture resistant and they come in a wider range of colors.
Types & Designs
Vinyl mats are installed for many different reasons including floor protection, beauty, indoor cleanliness, safety matting, ergonomic comfort, and for a myriad of specialty benefits. There are many different types of vinyl floor mats. Vinyl mats are mainly classified according to their production and surface design. Some of the most common design types include:
Smooth Vinyl Mats
These floor mats are designed for installation in medium traffic areas. They are used to moderate floor protection depending on the thickness of the mat. They are suitable for installation on floors in workstations and other medium traffic sites.
Embossed Diamond Vinyl Mats
Like the name implies, these mats come with a textured topside featuring embossed diamond shapes. This design offers traction on slippery surfaces thereby ensuring personal safety and floor protection while also enhancing the aesthetic appeal of the room due to the classic design. These are long-lasting floor mats designed for heavy traffic settings.
Ribbed Vinyl Mats
These are heavy-duty floor mats that feature a closely ribbed surface. The hardy nodes and ridges on the surface are used for scraping and for trapping dirt and debris. These mats are very durable, resilient, and incredibly beautiful. They are suitable for heavy traffic residential and commercial environments.
Corrugated Vinyl Mats
These floor mats come with tough grooves that provide traction to the user. They are suitable for high foot traffic settings, such as assembly lines and busy walkways, and they are easy to clean and maintain.