Industrial matting solutions are installed in types of businesses to solve various functional necessities. There are general-purpose industrial matting solutions that are used to protect floors, provide floor safety, and ensure comfort in the workplace. Such mats are referred to as anti slip floor mats and anti fatigue floor mats. In more specialized settings, we use specialty matting solutions to ensure medical safety, electrical safety, chemical safety, and noise and vibration reduction. Some commercial/industrial environments require such specialty floor mats for specific applications. We will look at some of the specialty matting products that are needed by the industries listed below.
Sports & Recreation
The sports and recreation industry requires floor mats that will cater for its active and entertaining fans. One type of specialty matting solution that comes to mind in this industry is the noise and vibration reduction floor mat. These specialty floor mats are used in sports and fitness centers or gyms to reduce noise and palpitations generated by the synchronized activities of many people. These mats are specially produced from noise, vibrations and shock absorbent materials that trap excessive noise and vibrations as the people continue to exercise or participate in sport. Noise and vibration reduction floor mats are also used to soundproof loud entertainment venues in the sports and recreation industry.
Restaurants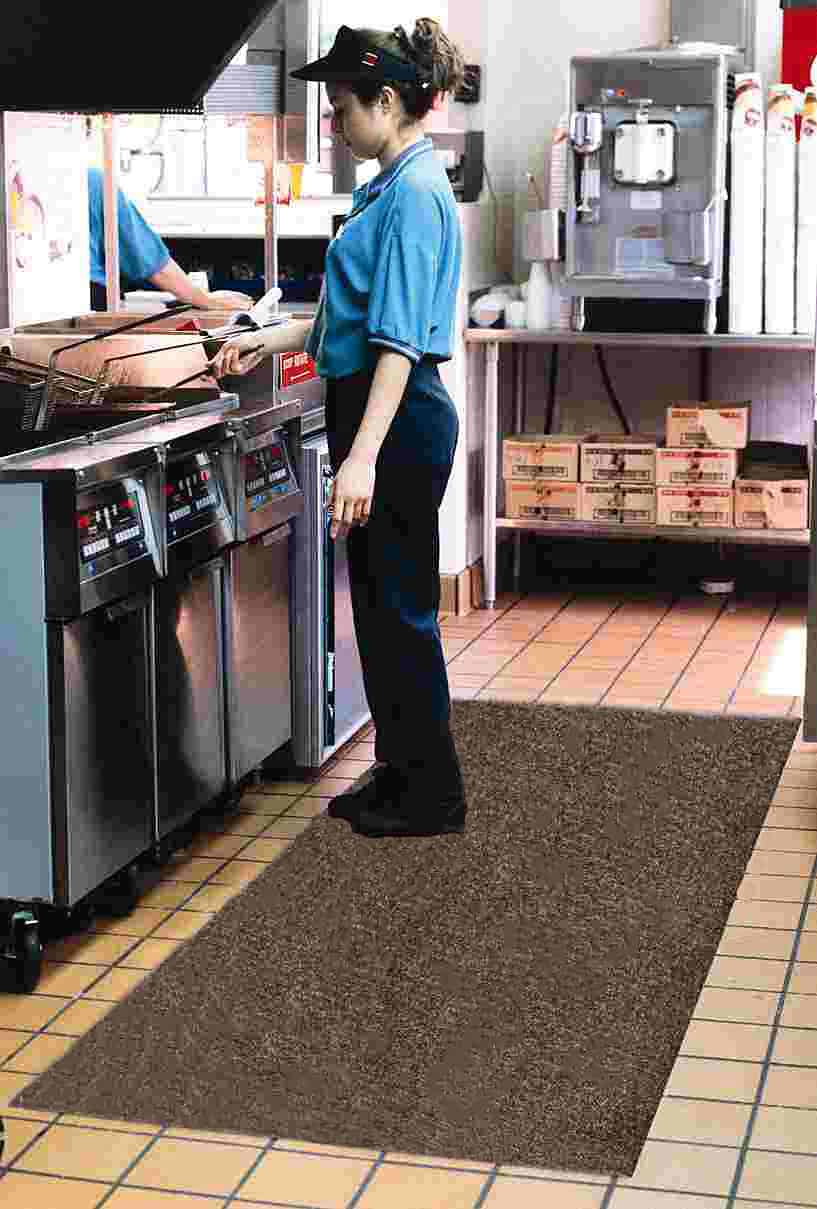 The hospitality industry is also a regular customer of specialty matting products. Restaurants in particular require special floor mats to ensure floor safety for workers and customers. The most sensitive section in a restaurant is the kitchen. Commercial kitchens are extremely busy and hence lots of unprecedented accidents can happen at any time. There are liquids being spilled on floors and lots of human traffic as orders are requested and submitted. Anti slip floor mats can be very effective in preventing accidental falls in a commercial kitchen. And to enhance the health and wellbeing of the kitchen staff, the anti slip floor mats should also double up as anti fatigue mats. This helps to relieve strain and stress from cooks and other kitchen staff who have to endure long standing hours while preparing meals.
Healthcare Facilities
Hospitals and other healthcare facilities require specialty matting products to ensure that they are always clean and uncontaminated. Antimicrobial medical floor mats ensure that healthcare facilities are always clean, sterile, and uncontaminated. These specialty floor mats contain an everlasting sterilizing agent that kills and inhibits growth of bacteria, fungi, and other microbes and germs. In addition to preventing contamination in medical settings, some antimicrobial may also function as anti fatigue floor mats. Surgical floor mats are installed in operating theaters to relieve physical stain and stress from surgeons and other medical personnel who spend many hours performing an operation.
Factories & Warehouses
To start with, factories and warehouses require anti slip and anti fatigue floor mats to ensure the safety and comfort of the workers. In special production facilities, factories, and warehouses might also require specialty matting products for specialized applications. For instance, welding firms and other factories that use electricity in their production activities should install static dissipative (ESD) or conductive mats. This specialty floor mats are used to disperse or dissipate electricity harmlessly into the ground. ESD and conductive matting products provide insulation on the workplace and hence protect workers from electrical shock and electrocution.