As we have all realized by now, floor mats are no longer a luxurious residential installation, they are a necessity. Floor mats offer all kinds of functional benefits to a homeowner. But before we delve into the advantages of installing floor mats in your home, let us first digest a few tips for buying residential floor mats. Before you purchase any mat for your home, you should always consider a few factors. One of the main factors that you should consider when purchasing floor mats for your home is the mat's material. There are many different types of mats but you can summarize them to rubber floor mats, carpet mats, and vinyl matting. All these different materials offer different functional benefits to the user. The other important factor to consider is the size and color of the mat. You should first consider the site of installation to determine which color will match or even complement the décor. You also have to factor in the required size of the mat to cover the intended space. Other key considerations include the cost of the mat, longevity, and specific functional features, such as in heated mats. Now that you know what to look for in a residential floor mat, let us discuss the benefits of buying one.
Floor Safety
Floor mats ensure that your floors are safe by providing traction on slippery surfaces. These types of floor mats are called anti slip matting solutions. They come with special design features including ridges and textured surfaces for gripping the floor and your feet top avoid accidental falls on slippery surfaces. Anti slip floor mats can also provide some or all of the other functional benefits discussed below including floor cleanliness, aesthetic appeal, ergonomic benefits etc.
Floor Cleanliness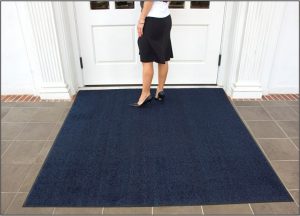 One of the main reasons why floor mats are installed at home is to keep the interior of the house clean. One of the most popular types of residential floor mats is the entrance or entryway floor mat. Entrance mats are installed across the doorway for scraping outdoor dirt from your shoes. They come with special design features for trapping dirt, moisture, snow, salts, and other outdoor debris. As such, they ensure that the interior of the house remains clean and that the interior floors are protected from scrapes by outdoor debris.
Heat & Comfort
Heated floor mats are used to provide warmth in residential and commercial/industrial settings. They contain a heating element that produces heat when connected to an electrical source. When installed at home, heated mats provide heat in various rooms during the cold season. Therefore, heated mats provide ergonomic benefits at home by creating a cozy environment, which promotes the health and wellbeing of residential users. Heated mats are also used to melt snow outdoors and hence help in clearing pathways and walkways.
Beauty & Decoration
And last but not least, residential floor mats are used to decorate the interior of a house. Homeowners who know a thing or two about interior design can use a nice selection of floor mats to complement or enhance the interior décor of their house. This means that you have to select your indoor residential mats carefully to ensure that they are all aesthetically appealing and that they accentuate your interior décor. You can spice up the whole exercise by planting a tasty welcome entrance mat on your doorway.