Floor mats are made from many different materials or fabrics. We have carpet floor mats, which are made from carpet fibers. These mats usually come in many tasty colors and designs. We also have polyethylene and polypropylene floor mats, which are made from thermoplastic polymers. These mats last for a very long time and are suitable for indoor and outdoor placement. Vinyl floor mats are made from a synthetic plastic polymer. These mats are very functional and they come in many classic design styles. All these mats are very strong and durable and they are very effective for scraping dirt and moisture from shoes. Another popular material for manufacturing floor mats is rubber. Rubber floor mats are made either of natural rubber or synthetic nitrile rubber. Natural rubber is harvested from trees as latex. It can be treated with sulfur to make it stronger in a process called vulcanization. Nitrile rubber mats are made from a synthetic rubber polymer. Rubber mats are recommended for high traffic areas, such as commercial buildings. The following are some of the advantages of using rubber for commercial floor mats in the workplace.
Easy To Clean
Rubber floor mats are very easy to clean and maintain. Rubber surfaces are plain and dry. Compared to carpet floor mats, rubber mats are very easy to clean. Remember that the carpet fibers in carpet floor mats tend to absorb the moisture and dirty water that users scrape their shoes. These mats require regular vacuuming and deep cleaning. With rubber floor mats, you only need to vacuum a few times a week depending on the weather. You can hose all dirt down and have them back in place in a few hours.
Very Durable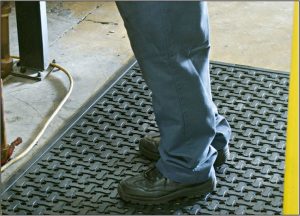 Rubber floor mats are very strong and durable. These mats can be placed in heavy traffic areas both indoors and outdoors. Natural and synthetic rubbers are all very strong materials. As such, natural and nitrile rubber mats will last for a very long time in a commercial building.
Classic Designs
You can choose commercial rubber mats from a wide variety of surface designs. Improvements in the production process have enabled mat manufacturers to come up with many classic surface designs of rubber floor mats. When choosing rubber floor mats for the workplace, consider the shape, size, surface design, and color. Choose suitable features that match or complement the interior décor of your place of business. Rubber floor mats can also be customized and enhanced with many additional features to become logo mats for brand promotion and advertising, anti fatigue mats for ergonomic comfort, or even to be used as a heated door mat to provide warmth.
Enhanced Traction
Most floor mats come with a rubber backing. Most polyethylene and polypropylene floor mats have a rubber backing for enhanced traction. The rubber material is designed by the mat manufacturer in such a way that it has cleats and ridges that enhance the grip of the mat on the floor. This ensures that the mat does not move when you step on it, making it fit securely in the anti slip mat category.
Eco-Friendly
Natural rubber floor mats are biodegradable and hence eco-friendly. These mats do not fill the environment with waste but decompose and enrich the soil. Nowadays mat manufacturers are recycling rubber. Some rubber mats are made from 100% recycled natural or nitrile rubber. As a business owner, you have a responsibility to protect the environment.