For many industries, having floor mats placed at the entrance, or workstations are a necessity.  Anti-fatigue mats placed in many areas where employees spend many hours on their feet are an essential part of doing business. These anti-fatigue mats alleviate many of the discomforts employees experience while working on their feet.  Workers operating machinery, hairdressers, cashiers, waiters, and people in offices can use anti-fatigue mats in order to continue working seamlessly.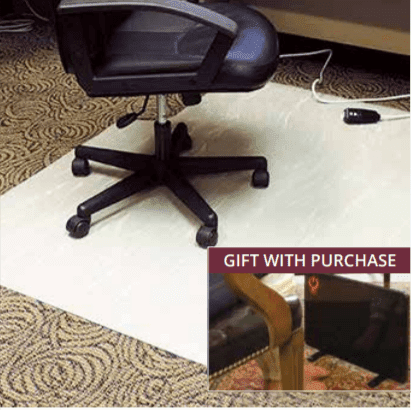 Now, it is very common for people working in offices to have a standing desk in their work area. The long hours in the office can be divided by standing and sitting throughout the day and continue working. An anti-fatigue mat is a useful necessity in such cases. Also, these anti-fatigue mats are designed to reduce neck and back pain in your employees. In other words, the price spent buying an anti-fatigue mat is minimal compared to the benefits and productivity your employees will bring to the workplace.
There are many office products that promise to increase the productivity of your employees.  Fortunately, there has been a lot of research into anti-fatigue floor mats in the workplace and the benefits associated with them.

Floormats and their benefits in the workplace
For example, for machine operators where the risk of injury can be dangerous, research has shown providing an anti-fatigue mat will ensure fatigue, slips, and falls are minimized. Moreover, many studies have shown employees' productivity and comfort level increases, which in turn increases the profitability of a business. The more protection a business offers to their employees, the fewer missing workdays they will have in their hands. They know the business cares about their protection, which makes their attitudes more favorable to the business.
Cashiers at many retail stores spend hours on their feet without the ability to leave their work area. They have to be alert, and they have to, in some instances perform many jobs while standing. Providing an anti-fatigue mat to lessen their discomfort is a very small price to pay. They are after all dealing with customers, merchandise, and money while on their feet for many hours at a time. Also, many employees at different shifts will enjoy the comfort and benefits of an anti-fatigue mat.


For a small office, where employees are more likely to share many small spaces, a business can provide floor mats designed to give them comfort. For example, a Stylish Floor Mat placed in their kitchen area will give them the assurance the floors are clean and safe for them. Floor mats placed in the kitchen and break room areas will stop coffee, water, and other liquid spills that can cause slips and falls because of wet floors.
If you really want to take care of your employees, a Floormat Heated Chair Mat placed on their work areas during the winter months won't go unnoticed. Also, the Spiffy Soft Vinyl office mat will let the office chair roll over the mat without any trouble. And, it also includes a Programmable Thermostat with On and OFF features and temperature settings that allows the user to set it at their own pleasure.
If you are the owner or part of the management team of a business, keep in mind that it is not outlandish to take care of the people who work for you. There are many studies that show the productivity and happiness level of many employees in a company are related to the small gestures the owners and management team perform for them. A heated floormat for them is a gesture that might repay you sooner than you think. The price of a floormat is small compared to the many benefits associated with taking care of the people that work for you
At floormat.com, we want to help your business provide a safe and clean environment to your employees. All our products have a purpose and are designed to provide the most benefits for your money. Our huge inventory of floor mats, cleaners, tapes, and social distancing products are specially designed to help your business succeed. We have disinfectants for the use of commercial and hospital businesses, as well as for residential homes.
If you have a question about our products or need assistance finding the right item for your business, contact us. We will answer your questions and find the right merchandise for your business.