For many allergy sufferers, the fall seasonal allergies are as bad as the spring ones.  The itchiness, watery eyes, and tiredness that results from allergies can make the sufferer feel"sick" many days in a row with no breaks. At floormat.com, we want to make sure that our business helps your business maintain a healthy workforce that can help you achieve your business goals. With our big inventory of floor mats for every business and for every occasion, we will help you maintain a cleaner work environment throughout the year.  Our floor mats will ensure your employees and customers feel safe when entering the business, and slips and falls are not an option.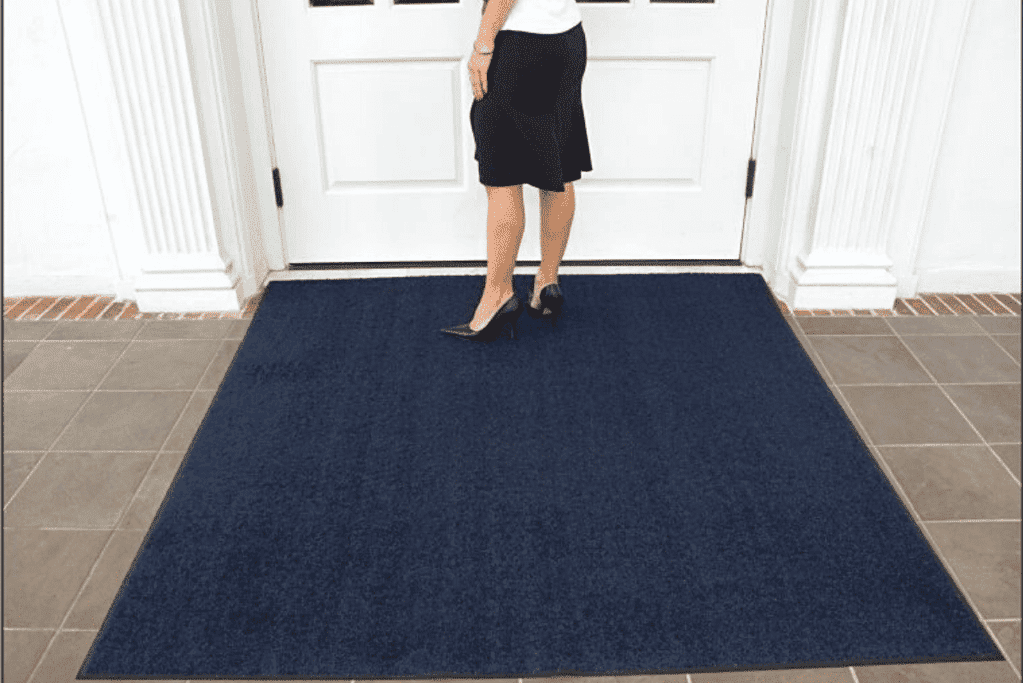 Floor mats placed at the entrance of an office building or office space can make a big difference in the lives of employees. Out entryway floor mats are designed to withstand the inclement weather changes, and to capture more than 70% of debris from the outdoors.
For public and private schools, where fall sports are in full swing, our floor mats and other cutting-edge products have made those environments safer and cleaner for their students, teachers, and staff. Slips and falls which are common in these places are a thing of the past. Locker rooms, swimming pools areas, showers, and entrances where protection against slips and falls is paramount, our floor mats deliver the protection your business or school needs.
A Frontier Floor Mat placed at the entrance of the high school swimming pool will provide the safety needed for your active students. This specialty mat will filter the dirt and water, and because of its unique vinyl spaghetti strap, will trap the water and debris at the bottom of it. This will allow the swimming pool area to stay cleaner, drier, and safer for everyone. The best part of having this Frontier mat is the easiness of maintaining it clean. Shake it to get rid of debris, or power wash it to leave it clean and ready to use. This Frontier Floor Mat is recommended to use in swimming pool areas, showers, locker rooms, and entryways. During a rain shower or winter storm, placing this Frontier Floor Mat at the entrance of a building or office space can stop slips and falls, and possible injury to your employees.
Our business carries a huge inventory with many innovative products to help your business succeed. From entryway mats, logo mats, anti-bacterial floor mats, to anti-fatigue mats and beyond, we have the floor mat your business requires.
In other words, if you want an anti-bacterial floor mat that will add some color to the entrance of the building while providing the best protection for your employees. We have what you need.
The Arrow-Trax Antimicrobial Floor Mat is the one for your business. The useful benefits of this mat, along with its durability and colorful texture, will provide you with the benefits required of an anti-microbial mat. This perfect floormat is designed to be used in high-traffic areas because of its durability. Also, it provides moisture retention quality to keep floors from becoming wet and dangerous. It is treated to stop fungi and Gram-positive and Gram-negative bacteria. According to NIH and the National Center for Biotechnology Information, this type of bacteria accounts for many of the bloodstream infections in the United States. In other words, protecting the health of your employees can be accomplished cheaply by installing this Arrow Trax Antibacterial Floor mat at the entrance of your office building.
On the other hand, if your office is small and you need a logo mat to promote your business, we can help you with that too. Our logo mats are specially designed to help you promote your business. Your business name or trademarked logo can be placed on its topside in a Classic Impression HD Logo Floor Mat or on a Classic Impression Logo Floor mat. If you want it at the entrance, we can offer you a Super Scrape Signature Logo Floor mat that will help you promote your business while maintaining a clean environment. Regardless of your floor mat needs, we can provide you with the right one for your business.
Also, if your business requires other innovative products to protect your employees and customers, call us.  We help businesses in many fields ensure the safety of everyone.  From basketball arenas and football stadiums to high schools locker rooms and track & field spaces. We offer and install many of the specialized products we have in our inventory. Our wall-to-wall matting products can be used in locker rooms and football tunnels to help everyone do their job safely. The anti-slip tape can be used on bleacher steps to minimize slips and falls, and ensure everyone attending an event can leave home safely at the end of the show.