Covid-19 has made many industries and people change the way they do business.  For the healthcare industry and its employees, the dangers associated with helping patients have never been more critical.
At floormat. com, we are dedicated to providing floor mats for the healthcare industry to help its employees and patients perform their jobs safely and in a healthy, sterile environment. Our products are specifically licensed to provide comfort while keeping the well-being of every employee our top priority.
Our floor mats are anti-microbial, anti-bacterial, and anti-fatigue. At floormat.com, we are committed to keeping hospitals, clinics, and every room in the healthcare industry safe for everyone.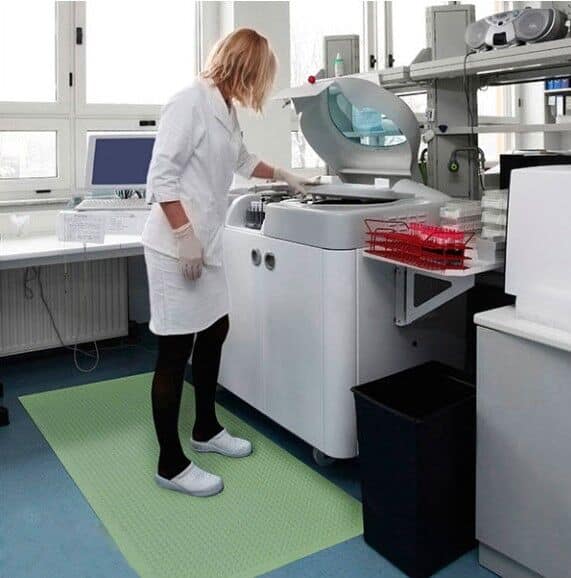 The research about anti-fatigue floor mats is numerous. Furthermore, the benefits these floor mats provide to nurses who spend many hours on their feet, are countless. They are shown to reduce lower back pain and lower extremity pain in many employees that spend long hours standing. The floor mats we carry are specifically licensed for the medical industry, and with their custom matting solutions are perfect for hospital, clinic, or medical facilities.
In the healthcare industry, cleanliness plays a crucial role in maintaining doctors, nurses, and general staff healthy to continue to provide excellent care to all their patients. Our anti-bacterial, anti-microbial mats allow these facilities to keep their floors clean and free of debris. By trapping bacteria, dirt, solvents, and debris, these mats provide the cleanliness the healthcare facility is seeking to achieve. By keeping bacteria, and solvents found on floors at the bottom of these anti-bacterial floor mats, they are preventing the spread of such dangerous agents to other parts of the hospital or clinic. Falls and injuries in high traffic areas where solvent spills are most likely to occur are kept to a minimum by using these anti-bacteria floor mats. Many of our floor mats for the healthcare industry are specifically designed to minimize the growth of bacteria and fungus, and more importantly, they are designed to be used in every room in a hospital setting. From the surgical rooms, nurses stations, and histology labs, these floor mats will allow the rooms to stay clean, sterile, and safe for everyone that enters these rooms.
For example, our Airug Disposable Surgical Floor mats are a convenient necessity. These are sanitized disposable mats that make them convenient for the operating room or exam room in a hospital or clinic. This disposable surgical floor mat is an anti-fungal floor mat with the benefits of providing comfort to doctors and nurses in the operating room from the back and lower extremity pain. These floor mats' health benefits are many but are especially important to many of the doctors and nurses in the healthcare industry. Comfort and safety are essential benefits when we take into account the severity of doctors' and nurses' jobs and responsibilities.
If you are considering an entrance floor mat for your clinic or doctor's office then the Barrier Rib™ is designed to give you the functionality you need, without jeopardizing the decor. This floor mat is designed especially to be used at the entrance of your place of business. The floor mat's raised rubber perimeter will retain moisture and debris from the outdoors, keeping your floor dry and clean for every employee and visitor on a daily basis. This anti-microbial floor mat will stop bacteria, and germs at the entrance, and will stop the contamination of other parts of your office by keeping them there. These floor mats are not only anti-bacterial but are durable, and make the purchase an easy choice to make.
Is your business looking for an antimicrobial floor mat? This Ortho Antimicrobial Floor Mat comes in three different colors and provides your employees with the comfort needed after long hours standing. The sloping edges allow your employees the mobility they need without the danger of tripping and falling. This floor mat is super soft, immune to acids, chemicals, petroleum products, and animal and vegetable fats. Keeping your floor clean of chemicals and spills.
Our business has a huge inventory of floor mats for your business, and their features and benefits can provide the comfort, cleanness, and durability you are looking for in a floor mat. They are durable floor mats that won't need replacing every few weeks. They are priced right to give your business what you need without breaking the bank.
We know many of these floor mats are needed to be bought in bulk to meet the hospital's or clinic's demand for them.  At floormat.com we have special bulk pricing for your business.   If you need to buy in bulk, call us and we will talk to your representative to talk about pricing, quantities, and delivery. Do you have a question about a specific floor mat and need answers?  You can contact our sales representatives and we will provide you with all the information at our disposal about that particular floor mat.