Winter mats throughout your place of business keep most allergens and debris from the outside on the floor mats at the entrance and reception areas. Snow and rain water accumulation stop on those mats, making the place of business safer and cleaner for your customers and employees alike.

The variety of mats we offer are abundant.
Entrance mats for many businesses are a necessity to protect customers from falling and hurting themselves. We offer a great variety of mats to meet the needs of your business while providing beautiful mats to give
your business an accent of warm and welcoming decor.
Placing beautiful entrance mats in your business can offer the safety customers need from slips and falls. A business can be found negligible if a customer falls and injures himself or herself. A business needs to provide a safe environment for its customers and employees.
At floormat.com there are mats for every part and situation in your business.
Entry mats for your business for example can remove up to 90% of dirt and debris from the soles of shoes of customers and employees. The dragging of pollutants throughout the building is kept to a minimum, providing clean air and floors to every person in the business. The colors and textures of our mats provide a welcoming and clean impression to everyone that enters the building. The mats we offer come in many colors and offer many solutions to water, snow, and debris accumulation.
The WaterHog Grand Classic is an exceptional and performance-proven mat with many features that can be used in your place of business or home. The water and debris coming from the outdoors are trapped and stay on the mat. Keeping your home and business clean and safe. This particular mat offers a green-friendly backing that keeps it in place while helping our environment by using 10-15% recycled rubber content.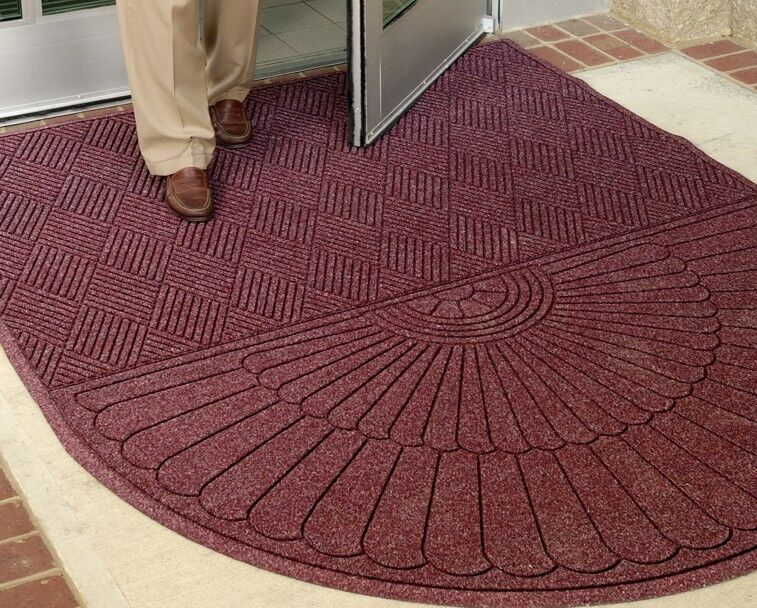 For the people who think entry mats do not last, this particular mat offers a100% solution-dyed to eliminate fading. That means your mat won't fade within months of purchase and will keep the entrance looking beautiful and clean looking. Safety is one of the many concerns businesses worry about when purchasing mats. They do not want to buy pretty mats while jeopardizing the safety feature.
All WaterHog Mats are certified slip-resistant by the National Floor Safety Institute, so you don't have to worry about neglecting the safety issue when purchasing a pretty looking mat.
The WaterHog Grand Classic comes in 8 different sizes and over 15 different colors. The choice is an easy one for the customer to choose and be happy about.
When evaluating the kind of mat you need for your business, affordability, and durability come easily to mind. Your business needs mats that will last, offer the safety your employees and customers need while offering a price that makes sense for your business.
When looking for industry-specific mats, we offer the right mat for your industry. At floormat.com we have provided mats for assisted living facilities, gym and fitness, healthcare, education, and the manufacturing industry among others. We make buying a floor mat easy, and offer the floormat cleaning products to keep them looking new and safe for many years.