Industrial floor mats are now available for installation in all kinds of commercial and industrial sites. There are industrial mats for hotels and restaurants, healthcare facilities, mines, salons, gyms, assembly lines, factories, banking halls, ATM lobbies, business offices, and many other production sites. Industrial matting solutions offer many functional benefits to the user. For starters, these mats provide floor safety in the workplace. Most industrial mats are slip resistant and hence produce traction to users, thereby preventing slip-and-fall accidents in the workplace. Industrial floor mats are also used to maintain clean interior floors in any commercial building. We also use specially designed industrial or business mats called logo mats to promote our brands and for other marketing purposes. Anti-fatigue industrial mats are used to provide ergonomic comfort in the workplace. As you can see, industrial floor mats are very important in the workplace. This means that these mats require special care and proper maintenance to ensure their excellent functionality and longevity after installation. Use the following care and maintenance tips for industrial floor mats to promote their functionality and durability.
Regular Professional Cleaning
You should clean your industrial floor mats on a regular basis. Industrial floor mats are usually installed in large spaces, meaning that cleaning them is not easy. You can make a point of having them vacuumed and swept on a regular basis based on the working hours. But you should also hire a professional mat cleaning company to thoroughly launder your industrial mats from time to time. The professional mat cleaners will be able to clean your industrial mats more effectively than your janitors, which will ensure that your mats are effective in trapping dirty and grime. These professional mat cleaners use special detergents and techniques to remove all stains and spots in your industrial floor mats thereby leaving spotlessly clean. You should consider having some replacement industrial mats to use when the others have been taken for professional cleanup.
Proper Handling & Storage
You should always ensure proper handling and storage of your industrial mats to avoid unnecessary damage. Make sure that your industrial mats are never folded, but rather rolled during storage or transportation. You should roll the mat compactly with the pile facing outwards. You should never crush the floor mat and you should always lay it down flat. Store the mat in a cool dry place.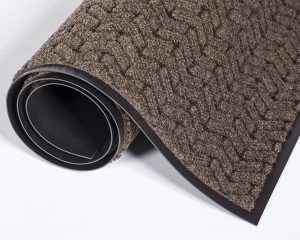 Clean Under And Around The Mat Regularly
You can ensure the cleanliness of your industrial floor mats by cleaning the areas under and around the floor mats. There is bound to be dust and debris around the floor mat, especially if it's an outdoor floor mat. But even with interior or indoor floor mats, people still scrape some dirt onto the floor. You should make a point of cleaning all these surrounding and underneath floor surfaces to ensure that the mat remains clean and the entire floor is spotless.
Replace Old Worn-Out Mats
You should inspect your industrial floor mats regularly for defects or damages. Check the edges closely for flaring. You should have all flared edges repaired or replaced immediately. And when your industrial floor mats are too old and worn-out to function, then you should have them replaced with new high quality ones.