The main purpose of installing floor mats at home or in the workplace is to ensure floor safety. Floor mats are mainly used to prevent slip-and-fall accidents in any wet and slippery environment. But while you can just rely on ordinary interior floor mats to ensure floor safety at home, you need more specialized matting solutions to enhance safety and protection in commercial and industrial sites. You can install various types of commercial or industrial floor mats to ensure safety and protection in the workplace. There are also many other floor safety solutions that you can install to achieve the same purpose. Let us now look at the various industrial matting solutions that you can use to enhance safety and protection among your workers and customers.
Industrial Floor Mats
The most popular and effective industrial matting solution to ensure floor safety in any commercial or industrial site is the age-old floor mat. But these should be specially designed commercial floor mats for application in commercial and industrial working sites. You can install the following industrial floor mats in the workplace to prevent accidental falls and to enhance overall safety and protection.
Anti-slip Mats
Commercial anti-slip floor mats are designed to enhance traction on wet slippery floors. These mats are specially designed to prevent slip-and-fall accidents in the workplace.
Anti Fatigue Mats
Many industrial floor mats have anti fatigue properties. These mats enhance ergonomic comfort in work areas where employees or customers have to stand on their feet for too long. They prevent orthopedic complications.
Antimicrobial Mats
Antimicrobial floor mats are usually installed in controlled working environments where they should be no contamination. They feature special antimicrobial agents that trap germs, bacteria, and dust to maintain sanitized working places.
ESD Matting
ESD matting solutions are designed to conduct electrical charges safely to the ground in the relevant industries. They prevent electrical shocks and other electrical accidents.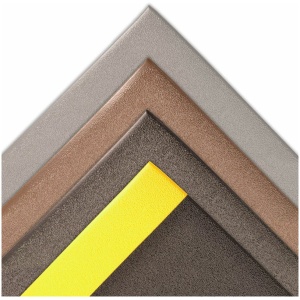 Tapes
They are many different types of safety tapes for preventing accidental falls in the workplace. You can install anti-slip or grip tapes, chemical resistant tapes, illuminated or glow in the dark tapes, or even aqua safe or waterproof tapes to ensure floor safety in various commercial and industrial settings.
Treads And Landings
Treads and landings are used to enhance traction in sensitive work areas. You can install aluminum tread nosing to enhance slip resistance in heavy machinery and for outdoor floor safety. There is also fiberglass tread nosing that helps ensure traction on various outdoor working environments.
Coatings
There are many different types of anti-slip coatings that can be applied on a floor to prevent slip-and-fall accidents. These anti-slip coatings are highly recommended because they offer a clear finish that esquires you still see the original floor without suffering accidental falls.
Signage
Signage can go a long way in ensuring safety and protection in your business premises or industrial site. This involves the installation of exit and industrial safety signs. You should consider installing photo-luminescent exit signs for maximum visibility even at night. You should also install all kinds of floor markers in your place of business. This includes boot and feet floor markers, arrow, emergency exit, danger high voltage, no smoking, stop sign, hard hat, authorized personnel only, and fire exit markers among many others.