The manufacturing industry is one of the largest employees in the nation.  This industry employs a diverse group of workers that ranges from food production, transportation to chemical manufacturing and furniture.  Their work setting couldn't be more diverse, and according to the Department of Labor Statistics, falls in the workplace are one of the leading causes of occupational injuries and fatalities. Factory floormats can make a big difference.
At floormat.com, we want to help you provide a safer environment for your employees and customers regardless of your industry with high-quality factory floormats. The manufacturing industry jobs are demanding, repetitive, and oftentimes exhausting jobs that make accidents more prone to occur. We want to keep your employees working safely and effectively. By keeping employees safe,  industries across the board can minimize the number of days employees need to take off because of an injury.
Floormat.com can provide your industry with the right floor mat to keep your employees safe.  Slips and falls are one the major contributors to employees missing many days of work. By providing grease, oil, and chemical-resistant mats to your employees, you are providing a safe work environment where your employees can continue to work safely and securely in the knowledge your company is looking out for them.
The second cause for employees missing work due to injuries is overexertion and the repetitive motion of their job. Technicians and machine operators spend many hours on their feet every day. By providing anti-fatigue mats and cushion station mats, you are giving them the comfort required to do their job well and safely. These anti-fatigue mats have been proven to decrease the number of injuries employees suffer in the workplace. Consequently reducing the likelihood of injuries, fatalities, or missing workdays.
Our Bubble Trax Anti-fatigue Floor Mat will minimize your technicians' and machine operators the physical discomfort they experience while standing on their feet for many hours. The machine operators' and technicians' long shifts make them prone to back pain, legs, and feet discomfort and can make their productivity decrease as their shift progress. These anti-fatigue mats are designed to help decrease their discomfort while increasing their productivity. These anti-fatigue mats are uniquely engineered to eliminate the slipping and sliding many other mats in the industry do not have.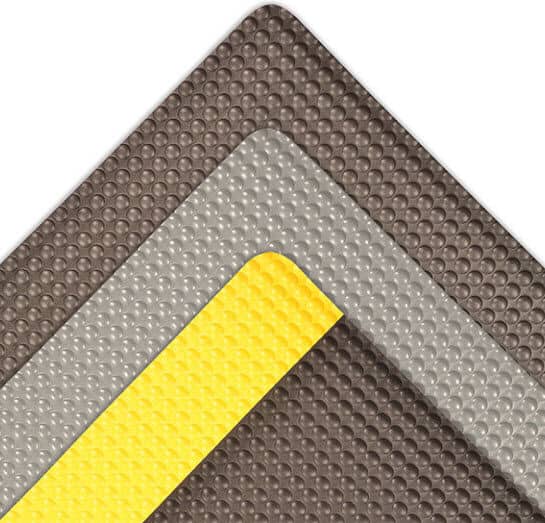 This Bubble Trax Anti-Fatigue Mat is not only used in the manufacturing industry. For many restaurants, this type of mat is essential to them. Restaurants' employees spend many hours on their feet under stressful conditions. Water, oil, and food spills are common and frequent around sinks and cooking areas of the restaurant. Spills and falls can become dangerous and abundant if the restaurant's floor is not properly equipped. This Anti-fatigue mat will keep spilled liquids from spreading with its unique 1″ thickness. Its sloped beveled edges will allow restaurant employees from stepping onto and off the mat with ease while its anti-slip feature will keep the mat in place. These mats can provide your business with the indispensable safety to keep your employees safe. Their safety and productivity will make your mat purchase a worthwhile effort.
If on the other hand, a customized mat for your vestibule or entry is important to you, we have the inventory and the experience to provide you with the right mat for your business. Our long experience in the restaurant industry has made us the unparalleled place to find the right mat for your business. If you need a logo mat welcoming your customers at the entrance of the restaurant, we got you covered. Do you need an interior mat to provide a unique welcoming sight to your customers? An Estes Floor Mat will provide you with the understated beauty of a floor mat while providing safety as well.
Many employees can suffer a slip or fall as they enter their place of work. Frayed mats or the lack of them at the entrance of many businesses, can result in injuries even before employees are on the premises. At floormat.com we have an array of floor mats for the interior and exterior of your business.
A Brush Hog Plus Floor Mat placed at strategic entryways can reduce the amount of dirt and water coming from the outside. This mat will greatly reduce the tracking of rainwater, snow, pollen, or other debris from employee shoes. It will leave your floors clean and dry, and its resistance to the sun will keep the mat looking new for many years. This type of mat protects the safety of your employees while protecting the permanent flooring underneath.
Regardless of your industry, we have a great inventory for you to choose a mat for your business. We will make sure to provide you with a great quality mat that will meet your standards and expectations. Our commitment to providing you with the best floor mat to satisfy your business needs has made us the floormat company you can count and rely on for all your floor mats needs. Contact us today.