We have a large inventory with floor mats for every season and every situation. Depending on the weather, the industry, and the traffic of your business, Floormat.com has the right floor mat for your business. Every company big or small understands the importance of floor mats in their business.  It keeps their floors cleaner, it gives a nice accent touch to the entrance, and it can provide safety to their customers.
We are committed to providing your business and home with an array of floor mats that meet your needs and exceed your expectations.
Entryway Floormats
From entryway mats, indoor mats, and logo mats, Floormat.com has a variety of anti-slip mats that will help your business provide the safety your customers and employees need when entering your business. Not only that, our business includes signage as well to keep your business safe.  From exit signs, safety signs, and floor decals to directional signs to keep accidents from happening.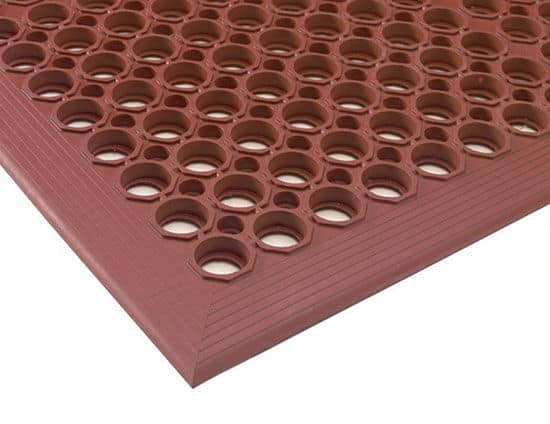 Floor mats not only provide your business with safe flooring for your customers but can keep your business looking cleaner throughout the day. It can also protect the longevity of the floors and their appearance.
An indoor scraper mat for your restaurant, kitchen, or areas where the possibility of spills exists, this indoor scraper mat will provide you the anti-slip surface, durability, and safety your business needs. With the thickness of the mat and reinforced borders, this indoor scraper mat will stay in place even on hard floors while stopping employees and customers alike from tracking debris, grease, and water to other parts of the business.
These floor mats give you the security and the cleanliness to keep a more sanitary place of work.
High Traffic Area Floormats
Schools, daycare centers, and senior living facilities are high-traffic areas that require the management of those places to provide safety at all costs for their residents, customers, and employees alike. An entrance mat floor along with a specialty indoor matting can provide the safety needed. Childcare centers where cleanliness is paramount, need to have floor mats that are durable, can withstand high traffic, and can be disinfected without damaging them. For these places, an antimicrobial floor mat that can prevent contamination is pivotal to them. The well-being of many children is their responsibility, and ultimately their business.
Displaying a logo mat at the entrance of any business can be a welcoming sign for many customers, residents, and employees. It can promote your products and services while providing extra protection from trips and falls when entering your business. It can be a great advertisement tool, especially with our HD logo mat.
These durable floor mats, when used in public or high traffic areas need to be cleaned and disinfected frequently, with cleansers that won't jeopardize their durability. We can provide your business with the floor mats you need, but also the cleaners and disinfectants to protect your investment. During flu season, allergy season, and pandemics, the importance to have clean, disinfected floor mats are pivotal. It protects everyone involved in the business, including customers, visitors, and employees alike.
At floormat.com, we have the floor mat you need for your business. We have a huge inventory for you to choose the right kind of floormat for your industry. We have an array of colors and sizes that will perfectly fit the decor of your business, and provide you with the safety requirements you might need. Regardless of your industry, you can be sure we have the floor mat you need, the color, the size, and everything you need to protect your investment.