Floormats are a critical part of every sports venue. Even in school sports, a variety of floormats and anti-slip tapes are needed to keep people safe and to ensure the best possible environment for your athletes and for the people entering your school grounds to cheer them on.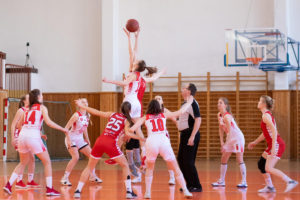 Water sports need obvious floormats in the locker rooms, along the pool and on bleachers you need anti-slip tape because those hard bleachers get wet and people can easily fall on them.
In workout areas, heavy duty floormats can protect the floor from dropped weight as well as wear and tear. Padded floormats also cut down on the impacts your athletes experience, possibly preventing injuries or soreness.
Gyms should have a lot of good floormats as well at all entryways. The last thing you want is dirt, grit and oils getting on the hardwood gym flooring. It is costly and time consuming to keep a gym floor in good shape and good floormats will cut down on the issues people drag in on their shoes.
Don't forget to show your school pride on custom printed floormats as well. You can get your floormats printed with the school message, a school cheer or the mascot. This way your sporting venues stay clean and spirit stays high.
Any high traffic hallways that the public walks down in order to see a game or a performance should have the highest safety standards as well. People in your school who are not used to being there are more likely to be looking around and possibly slip and fall. No one wants an injured parent or grandparent at a school event. Good floormats reduce the risk and show you can about everyone's safety.
No doubt, you can come up with many places in a large school where floor mats or anti-slip tapes or anti-slip coatings can protect people and send the signal to your visitors that you care about the safety of everyone at the school.  Less falls will cut down on days missed by students and staff in the long run, because anyplace that has hard surfaces and lots of people is going to get wet spots that are hard to see and result in slips and falls, which can lead to serious injuries.  Shop at Floormat.com or give us a call at 614-207-2234 and we can assist you.