Any time smooth ground surfaces get damp or mildew, they get very slippery to walk on. There are many places where a floormat, anti-slip tape or anti-slip coatings can help reduce the risk of injury. This article is about some less obvious places where you should be concerned.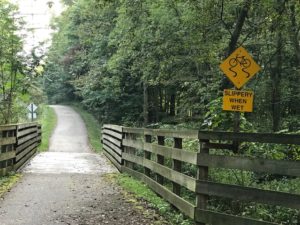 If you work for a city park service, you probably maintain paths for hiking and biking. These paths often have small bridges that go over water. Over time, these bridges often get mildew and become very slippery. You can power wash these surfaces frequently to help. You can put up signs to warn people as well, to reduce risk. But it is also easy to purchase and add anti-slip materials from Floormat.com to these surfaces to reduce the fall risk and make the park path safer. It is a small investment and easy to add, and makes the community safer.
Another place people do not think about is a basement floor. If you have significant water in your basement, you should have basement waterproofing done. However, if you simply have some humidity and dampness in your basement and you have cement or tile floors, you should have anti-slip materials on the stairs and floormats in high traffic areas to reduce your fall risk. This is especially true for older adults living in older homes where the surfaces are worn and slick.
Another place to consider which is not common is outside of doors in the winter. You can use heated floormats to keep those areas clear of ice so that your first step from your home or garage is not onto slick ice that has built up in the walkway. Falls frequently happen on that first step when the walker does not expect for it to be that slippery.
Lastly, a trick you can use is to have an industrial Sanitop mat over outdoor drains to stop leaves from clogging the drain as easily. The holes in the mat help the water in but keep the leaves up off the holes of the drain and can reduce the risk of water backing up and flooding into your home. This can be a very common problem where there are a lot of trees and drainage around a home is not ideal.
These are just some of the ways you can use floormats to reduce risks in your home and in the community. Visit floormat.com to see the full selection of floormats and anti-slip products available.