A floormat is an essential part of a business where high customer traffic is an issue and where the safety of their employees is important to ensure a safe and productive work environment.
Depending on the season, and the amount of traffic your business experiences, a floormat or floor mats around the business becomes a necessity. During the rainy season when floors can be constantly wet and slippery at the entrance of the building, a Waterhog Eco Grand Premier Floor Mat is a great floor mat to have. The Waterhog Eco Grand Premier Floor mat can hold up to 1 1/2 gallons of water, making it a convenient and useful floor mat to have at the main entrance of your business.
At floormat.com, we have a huge inventory to help your business succeed and provide you with the floor mats your business need to safeguard the safety of your employees.
We serve many industries and provide them with the right floor mat to ensure their place of business is safe.
Restaurants, assisted living facilities, childcare centers, schools, and fitness centers, are all industries where the right floor mat can make a big difference in the safety of their employees and customers.
Entryway mats placed strategically at the main entrance of any building can prevent slips, falls, and serious accidents. The high capacity of these mats to absorb rainwater, snow, and debris from the outdoors can help keep the floors clean and beautiful.
What can you do when high traffic is inside the building? An Enviro Plus Floormat is a Recycled PET carpet face floormat that can be placed inside the business to keep some areas dry and safe. There are kitchen and beverage areas in any business where spills can happen, similarly, there are bathrooms and other wet areas where an Enviro Plus Floormat is essential. The anti-static, post-consumer recycled materials make this floormat a "Green" choice for any business, and more importantly, a smart choice.
Protecting customers' and employees' safety is essential to the success of any business.  Accidents can happen in any company big or small, and the repercussions can be financially devastating for both parties involved. The purchase of floor mats for the business is a small investment when compared to the cost of an accident.  Employees missing workdays because of an accident is prevalent in all industries, and the financial repercussions are staggering.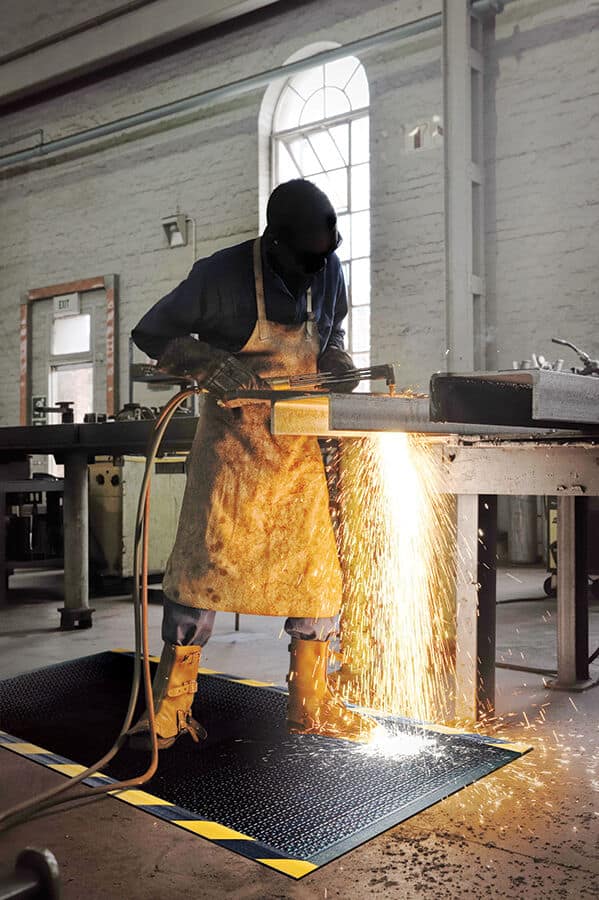 But, it is also important to protect the business's main flooring from deterioration. Protecting the floors of any business is a smart financial decision. A floormat at the entrance of any business will protect the original floor and can help the business avoid many costly repairs. Furthermore, cleaning, and polishing the floors can be more manageable when there is another layer protecting the original floor.
We have a huge floormat inventory for many industries, and every floormat is specifically targeted to do the job for your business. For example, anti-bacterial floor mats' usage in child care centers is essential. In other words, the investment of buying floor mats for their child care centers is an essential part of doing business. Above all, purchasing anti-bacterial floor mats for child care centers is a smart financial decision for their business. During the flu season, where the contagion rate can escalate pretty quickly among children and adults, an anti-microbial floor mat that can be easily disinfected and used again is much needed. But, most importantly, it can stop the spread of the virus, and the infection rate among children and employees.
During this Covid-19 pandemic, and the yearly flu season, having anti-bacterial floor-mats will help you keep your employees safe, and healthy.
For many office personnel returning to work this summer, a business must provide a safe environment to make them feel safe. Anti-bacterial floor mats, soaps, and disinfectants are needed on every floor of the building.
For many employees, the care a business takes and shows for their employees is noticeable. A happy employee or an employee that feels safe at work is a more productive employee. Of course, the financial benefits for a business can be noticeable as well.
Whatever industry, and whether your business is big or small, we have the floor mats you need. Social distancing products are available as well. A Don't Spread Germs Wash Your Hands Mat is a nice, gentle reminder to many employees in any business to wash their hands before returning to their desk or place of work.
If you have any questions about products in our inventory, availability, or shipping, contact us. We will be happy to talk to you.