Floormats are the single most effective way to keep dirt, snow, and water from entering your business and keeping your employees and business safe. Spills and falls are common occurrences in lunchrooms, bathrooms, and entryways. Therefore, the placement or installation of floor mats at entryways, bathrooms, and social gathering places where employees and customers gather is essential to protect them from slips and falls. By ensuring the safety of your employees and customers, you are ensuring the financial well-being of your company.
The many benefits of using floor mats:
It is essential to know the price of placing floor mats throughout the business is minimal when you compared the many benefits they provide. For example:
Floor mats keep your employees and customers safe by protecting them from wet and slippery floors once they are in the building.
Floor mats provide the protection you need to keep your floors looking clean all year round.
Floor mats will ensure water, dirt, and harmful pollutants stay on the floor mats at the entrance of the building.
A logo mat will not only offer protection from wet floors, but it will be a welcoming sign to your employees and customers.
For many manufacturing facilities where employees stand on their feet for 8 hours or more, anti-fatigue mats offer the protection and physical relief they need.
At floormat.com, we have a huge inventory of floor mats that will help you keep your employees and customers safe. Our company has a variety of floor mats that will help you do your business without worrying whether slips and falls are happening at the entrance or other parts of the building.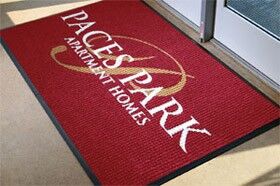 For your safety and the safety of your employees and customers, placing a Super Scrape Mat at the main entryways of the building will effectively keep more than 70% of debris from coming into your business. Snow, water, and other pollutants stay at the main doors without making their way into the interior of your offices. The main entryways will stay clean and drier throughout the day, and keep your floors looking new for many years to come. Our business is to keep you safe, so you can do more business for your business.
Entry Mats
The next best thing to keep your employees and customers safe is the placement of Entry Mats at the main doors of the building. The quality of floor mats we carry are specially engineered to keep your floors safe, and free of debris. Our entry mats keep 85%-90% of debris from under employees' shoes, leaving the majority of debris and pollutants at the entrance of the building. Because they are placed outside the building, these entry floor mats will keep your business safer and cleaner all year round.
An entry floor mat does not have to look ugly. We have beautiful entry floor mats that will keep your business safe and looking beautiful.
For doctors, dentists, and other private offices, an Evergreen Diamond Floor Mat is the right choice for your business. They are fashionable enough to provide your office with an accent to the decor plus the cleanliness you need. You also do not need to compromise, our 3 different color offers will provide you with a colorful floor mat you will love. But, what about the quality of the floor mat? Our heavyweight floor mats are not only beautiful but are also designed to last. Above all, the Evergreen Diamond's carpet fibers are designed with 100% recycled materials. We care to be environmentally friendly.
Hotels, motels, and rentals are the places where a floor mat is a necessity. Protecting the floors in your business is a financially smart decision. The cost associated with the purchase of floor mats is minimal when compared to the replacement of worn-out floors throughout your business or rental. The high-quality floor mats we offer your business will ensure the high traffic areas are safe and will look clean throughout business hours. The variety of colors and sizes can provide you with the safety you need while adding a beautiful accent to the decor of the office.
A clean, bacteria-free daycare center is of paramount importance to the owners, employees, and families alike. The safety and well-being of the children attending these places is a priority for many of these families. The survival of these types of businesses depends on the number of children they can take care in a daily basis, therefore, maintaining clean and safe facilities is essential for them. Anti-bacterial floor mats are therefore a necessity they cannot afford to ignore. Placing these anti-bacterial floor mats where children play, study, or eat is essential. Hygiene is too important for these businesses to neglect, and that's why we offer an array of anti-bacterial floor mats to meet their needs.
At floormat.com we offer anti-microbial floor mats for your business. These floor mats are specially designed to be installed in high traffic and sensitive areas of your business. For daycare centers where contamination and cross-contamination need to be contained, anti-bacterial floor mats are the answer.
Come check out our huge inventory of floor mats we have to offer. At floomat.com, we will find the floor mat your business needs with the right price tag. Contact us today, we are here to answer any questions you might have about floor mats, prices, and social distancing products for your business.