Northeast Ohio's annual precipitation is an average of 35-45 inches. Lake and Ashtabula counties get over 40 inches of precipitation yearly, and depending on the county you live in, 35 inches of annual precipitation is the norm.
For many businesses during the rainy season, keeping floors dry and looking clean is a difficult task. Every morning, as employees enter the premises, keeping them safe is the goal. Slippery, wet, and dangerous flooring can cause slips and falls to employees that can suffer a serious injury or a trip to the hospital. For these businesses, installing floor mats that will keep the employees safe, and floors looking new, is a small investment they have to make as soon as possible. That's why, at floormat.com, we carry a huge inventory of floor mats to provide you with many choices and many prices for your business to choose from and keep your employees safe.
For example,  our Waterhog floor mats have the power to absorb 1 1/2 gallons of water per square yard.  These floor mats are your first line of defense against wet, slippery entryways.  These floor mats are engineered to last while providing your business with the protection you and your employees need.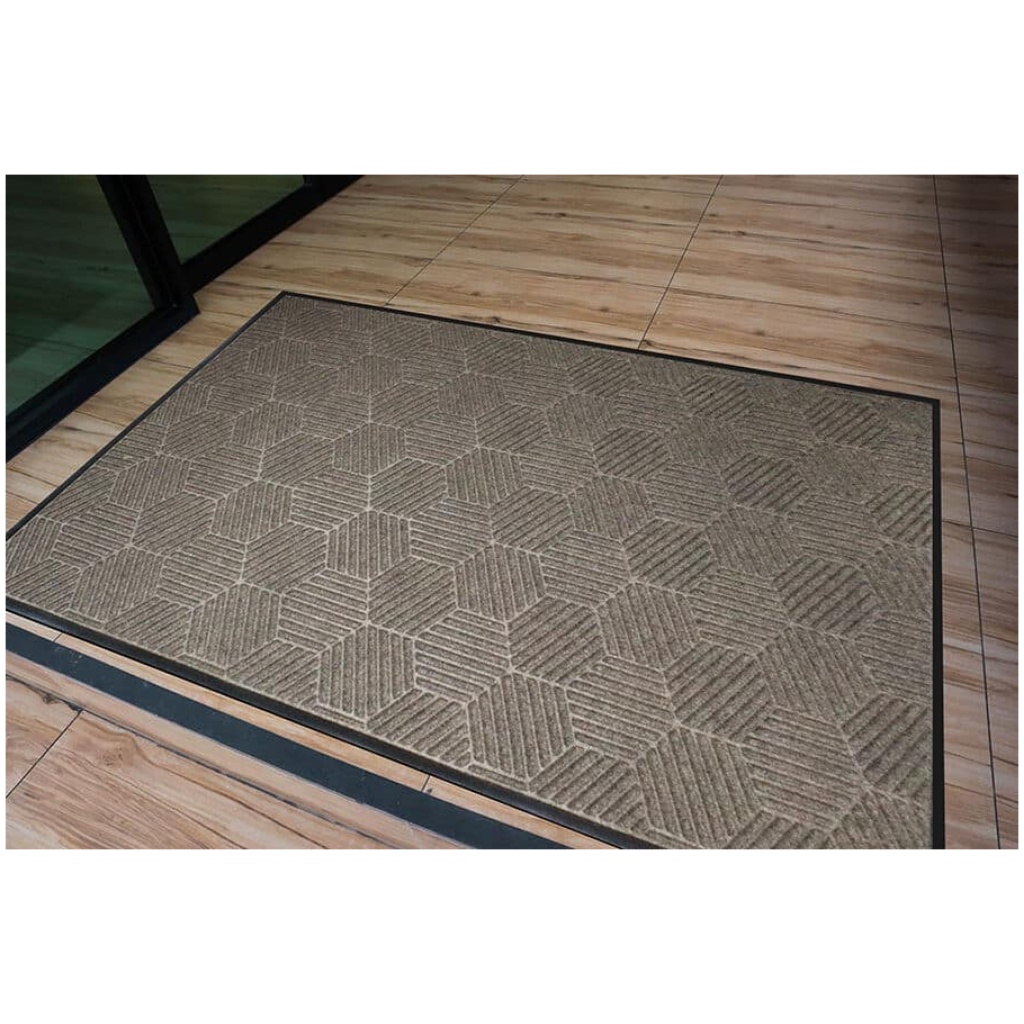 Commercial buildings, hotels, restaurants, healthcare facilities, daycare centers, and senior citizen facilities must invest in installing a Waterhog Eco Elite Fashion Floor Mat for their facilities. With the SBR rubbing backing and 3/8 " bi-level surface, these floor mats will remove dirt, water, and debris from beneath the shoe to keep your entrance to the facility clean and dry. Plus, these floor mats contain more than 20% recycled rubber from car tires. The Waterhog Eco Elite Fashion Floor Mat is designed to perform much better than any other competitor's floor mat.
Promoting your business while providing the safety your employees and clients deserve should not be too complicated. That's why we offer the Waterhog Logo Floor Mat for your business. This Waterhog Logo Floor Mat is a beautiful, practical floor mat that will welcome your employees and customers every single day while keeping your floor dry and looking beautiful for many years. With its 3/8 " backing, 100% UV resistant, these floor mats can be placed in the interior or interior of the business. Above all, these Logo floor mats will help keep your original floors looking new and help protect high traffic areas in your business. And most conveniently for your maintenance employees, they are easy to clean, vacuum, or hose off.
Small shops often require a smaller, colorful floor mat that will accentuate the decor of the store while providing cleanliness and safety at the same time. In many cases, store owners need to choose a one-floor mat that is pretty instead of useful. Or they need to choose a floor mat that is ugly but durable. At floormat.com, we give your business floor mats that are engineered to last while providing you with colorful, beautiful choices for your business.
For example, our Waterhog Grand Classic Floor Mat with its Fashionable Wiper–Scraper Mat with Fabric Border will be the only floor mat you need for your business. With its 3/8 " bi-level surface, it will remove dirt and debris from beneath the shoes of customers and employees alike and keep your store clean every day. Most importantly, this specially engineered floor mat will trap water and dirt, and stop other parts of the store from becoming wet and dirty. Plus, these beautiful floor mats come in many colors that will accentuate the decor of your store and make it a more welcoming sight for every customer you have. Many of these floor mats come in gold, light, green, orange, purple, solid red, white yellow aquamarine, etc. If you have any questions about the dimensions and colors we have, contact us today. We will be happy to talk to you about the need for floor mats in your place of business.
If your small business is a Yoga Studio and want to offer an experience nobody else is offering, consider the purchase of ToastiMat Heated Yoga Floor Mat. This excellent yoga mat is the perfect floor mat to offer your clients warmth and comfort while practicing easy or difficult poses at your yoga place. This yoga mat delivers infrared heat that penetrates and relaxes deep muscle tissues, joints, and core. These yoga mats offer 4 different temperature settings that can be set for 1 minute or 9 hours. It has an automatic shutoff, an 88″-cord, and a bag included. Do you want to make a yogi out of your clients? These yoga floor mats will be a step in the right direction.
If you have any questions about a floor mat, do not hesitate to call us. We are happy to answer any questions you may have about dimensions, colors, availability, installations, and prices for any floor mat you might need. We carry a huge inventory to provide our customers with many floor mats choices and prices to make their business succeed.