Whether you are in manufacturing, healthcare, retail, or the hospitality industry, your business needs floor mats in many areas to keep it safe and clean for everyone involved. It is imperative for any business where the public congregates to place floor mats at entryways and any other places where the danger of a slip or fall could be likely.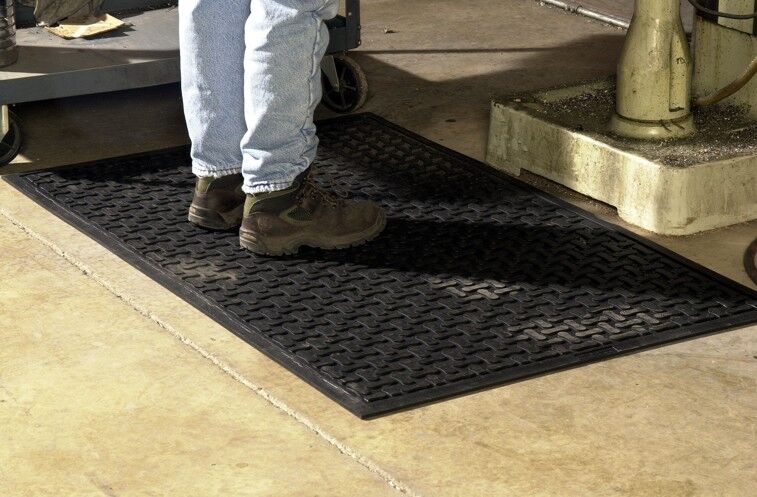 For many businesses where employees spend many long hours on their feet, the likelihood of an employee falling and sustaining an injury is very likely. According to the Bureau of Labor Statistics, men account for 11% of the fatal injuries sustained at work. That's a statistic that can be changed by following safety guidelines and providing support to those employees that spend long hours on their feet.
For example, machine workers and restaurant workers that spend long hours on their feet can benefit from anti-fatigue mats that can alleviate some of the discomforts they experience at the end of the workday. Pain and aches in their legs, feet and lower back have been known to lessen after installing anti-fatigue floor mats for many of these employees.
For instance, the Comfort Flow Floormat is the perfect anti-fatigue floor mat for your employees. It is slip-resistant which makes it the perfect floor mat to use indoors and out. With its slip-resistant capabilities, this floor mat is perfect to use in kitchens and industrial settings to help your employees feel safe when stepping on and off the floor mat.
This Comfort Flow Floor mat is a durable high density closed cell Nitrile Rubber cushion that is made of 15% recycled content. It is chemical resistant, and grease and oil-proof. The beveled edges allow for an easy transition from floor to mat, it has a lifetime anti-microbial treatment to prevent odors and degradation. The Comfort Flow Floor mat has drainage holes that allow liquid to flow through instead of pooling on or around the mat. It is easy to clean and it is lightweight and flexible.
If you are the owner of a restaurant, gym, or bar and want to make sure your employees and customers are safe when working there, these anti-fatigue floor mats are a great solution for your business.
Members and employees enter and exit the premises with regularity, and the entrance can become a hazardous area pretty quickly. That's why installing the Evergreen Diamond Floor Mat at the entrance of any gym will give you an instant solution to the wet, dirty entry areas. These Evergreen Diamond Floor Mats are not only capable of maintaining the areas clean and safe for your members and employees but are fashionable as well. The 100% recycled carpet fibers are used to make the pattern designs that make these floor mats a nice addition to your place of business. These floor mats are heavyweight, non-slip floor mats that will help you keep 70% of debris out of the premises.
Gyms in general are good places for germs and other microorganisms to gather, grow and contaminate many parts of the premises. The Weight training rooms, showers, and locker rooms are high-traffic areas where dangerous quantities of germs can gather and grow in these areas that are not properly disinfected. Also, in cross-fit training areas, gymnastics, and aerobics rooms where heavy breathing is common, airborne viruses can gather on floor mats if these are not treated with an anti-bacterial substance.
You might be wondering whether you need a special floor mat for your weight room. The answer is an Absolutely Yes!
The Weight Room Floor Mat at floormat.com is designed with heavy-duty rubber to keep them in place without curling at the edges. These floor mats protect your flooring, minimizes the clanking and noise in the weight rooms, and protect the equipment at the same time. These weight rooms floor mats are easy to clean and to help you with the sanitation process, we offer you the best products to help you sanitize and maintain the floor mats looking new for many years.
Not every floor mat is designed well nor it is of high quality. Our floor mats are designed to provide your business with the quality you deserve, engineered to provide the long-lasting use you need with the right price tag. At floormat.com, we carry a big inventory to provide your business with the choices you want and need. Color and sizes can be tailored to the specific needs of your business, and we are here to answer any answer you might have. Contact Us Today