With over 30,000 ROTC cadets enrolled in major universities across the United States, the ROTC offices need a direct and easy introduction to the students visiting their offices for the first time. Whether you are the Kent State University ROTC, the Ohio Army National Guard Recruiting, or the office for Veterans Affairs, you need a clear logo sign at the entrance that welcomes the young ROTC cadets and the public to your offices.
The ROTC offices at major universities need a clear introduction to their young recruits. A logo mat at the entrance of the offices can be the first welcome sign they see. It can also provide the people visiting those offices with a clear and welcoming message.
Buy Floormats with Military Logos
The U. S. Army, for example, conducts many events across the country to welcome families and to recruit possible candidates. What better way than to have a logo mat welcoming these families and possibly recruits at the entrance of the building? If you are conducting a greet-and-meet event outdoors, a logo mat introducing your company or branch of government is an essential item to have to welcome visitors.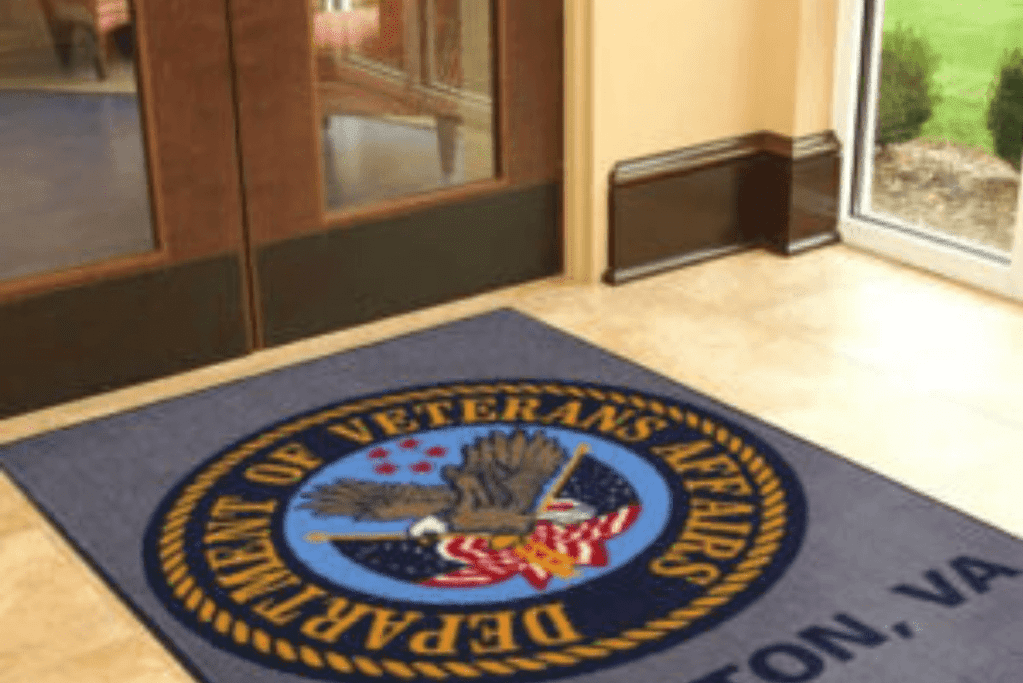 On the other hand, an indoor Traction Thread Floor Mat is a specifically designed, slip-resistant floor mat that will keep gyms, recreational rooms, and slippery areas from becoming dangerous, slippery surfaces. A training facility for army recruits needs to provide the safety needed to perform well. Cleanliness, dryness, and comfort are essential requirements for any floor mat needed in a training facility or gym. Our floor mats are specifically designed to meet those needs at a price that will fit your budget. Our Indoor Traction Thread Floor mats are durable, resistant, and will keep your floors from becoming safety hazards.
There are many United states Veteran's affairs offices across the United States. They have medical centers, outpatient clinics, vet centers, and community living centers to help veterans move forward. Because of the many branches and offices The United States Department of Veterans Affairs has, it is difficult for many families looking for a specific office, clinic, or center to know if they are in the correct office or even in the correct building. What better way to inform them they are in the right place with a beautiful logo mat at the entrance of the building or office? Logo mats can be useful in other ways too, they can keep your office and building safe for these families as they enter the premises.
Logo floormats are not only a welcome display to visitors, but they can provide the cleanliness the offices need during bad weather. These logo mats can provide the protection your floors need by keeping snow and water at the entrance of the building or office. For example, Our Waterhog Logo Floor Mat is not only a beautiful logo mat that is durable, but that will keep your entrance safe for everyone. Their Molded rubber backing will ensure they do not curl, bend, or crack in cold weather. They will keep their shape to ensure everyone can step on them safely.
Logo Floormats for Branches of the Military
Our Classic Impressions Logo Floor Mats have a thick, long-wearing nylon carpet with 20% post-consumer recycled content. They come in 26 available colors, and our database can give you over a million design options for you to choose from for your business. A logo mat with the name of your business, government affiliation, school, or private institution can be the first welcoming your clients
For community living centers or outpatient clinics for veterans, safety is paramount. A floor mat designed specifically to provide protection to visitors as they enter the premises is an essential item to have. The Classic Brush Floormat is a mat that will provide you with the ultimate soil-stopping power your business needs.
There are many government offices that work tirelessly to help veterans find the services they deserve. In fact, there are so many offices that clear logo and signage at the front or entrance to their buildings are too important to neglect.
If you have any questions about floor mats for your business or offices, contact us. We have a huge inventory to provide our customers with the floor mats they need. We sell high-quality, durable floor mats at the right price for private companies as well as government offices.